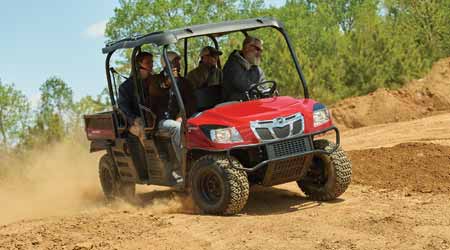 Utility Vehicles: Repair or Replace?
Smart equipment management includes understanding department needs and vehicle options as equipment ages
Everything changes in institutional and commercial facilities, from building operations and staff responsibilities to the condition of facilities and equipment. Changes in equipment condition include the big-ticket units that grounds departments use to maintain the appearance of landscapes and turf areas around facilities.
For grounds managers, challenges related to this equipment — utility vehicles and their attachments — include determining whether the smart move is to continue making repairs or to specify new equipment. The decision involves several important considerations, including assessing equipment condition and repair history, understanding staff equipment needs, and ensuring attachments perform as intended.
Status check
To assess a utility vehicle's condition in making the repair-or-replace decision, managers first need to review the unit's age and mileage. Each vehicle has an industry-accepted life expectancy that managers can use to estimate remaining performance life. Factors such as infrequent maintenance and excessive wear and tear can shorten the vehicle's performance life.
While life expectancy is a smart place to start, managers also should have mechanics inspect and rate a vehicle's components separately, while also checking the vehicle chassis for rust and corrosion, examining the frame and axles for damage, and noting leaks, noises, and vibrations The mechanic also should document loose play in the steering and suspension and the condition of the tires and wheels.
If the vehicle has a blade, the mechanic also should inspect it for dents and other damage and note excess wear, which gives managers a basis for calculating future expenditures. Assigning a ranking — excellent, good, average or poor — to each major system component can help prioritize repairs.
The mechanic also needs to ensure the vehicle's safety features are intact. The need to ensure all original guards, flaps and deflectors are present and inspect them for damage. They also need to examine glass windshields for cracks and chips, note any missing nuts, bolts and screws, and examine the brake system for wear and fluid leaks. In the case of vehicles designed for rough terrain, mechanics also need to ensure the proper operation of rollover-protection systems, passenger restraints, and reverse warning indicators.
Continue Reading:

Grounds Management

Utility Vehicles: Repair or Replace?

Three Questions To Ask About Utility Vehicle Repairs

Utility Vehicles: Understanding Facility Needs
---
---
---
Related Topics: