Questions to Consider When Assessing Utility Vehicle Needs
Part three of a three-part article on utility vehicle attachments
OTHER PARTS OF THIS ARTICLE
Pt. 1:
Attachments Add to Versatility of Utility Vehicles
Pt. 2:
Popular Attachment Options for Utility Vehicles
Pt. 3: This Page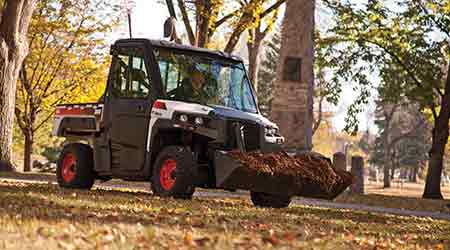 Bobcat
Before managers consider purchasing a utility vehicle and or any attachments for the vehicle, it is critical to assess department needs related to landscape maintenance. Among the questions managers need to consider before committing fund are these:
• What are the specific needs of the property?
• What equipment does the department already have?
• What is the budget for the purchase?
• What is the size and topography of the property?
• What equipment or attachment will help increase efficiency for overall maintenance of the property?
• What experience does the grounds crew have with utility vehicles and attachments?
• If purchasing a utility vehicle, does it need to fit on a trailer?
• If purchasing a utility vehicle, how much could the department save in the long run by selecting fuel-efficient or electric options?
• If purchasing a utility vehicle, how much speed and horsepower does the department need?
• How expensive will it be to maintain the utility vehicle?
In addition to these questions, managers need to give careful considerations to several core issues related to any big-ticket equipment purchases.
Costs. Depending on department needs and the make and model of the vehicle, utility vehicles typically range from $10,000 to $40,000. But that figure does not include attachments. As with the vehicles themselves, attachments vary in price. A snow plow attachment can start around $450, a spreader can start at $240, and a bucket can start at $400.
Maintenance. As with any piece of machinery, managers can extend the performance life by ensuring proper maintenance. This process includes performing regular maintenance checks, making sure it is always clean and lubricated, and storing it appropriately. The most common problem areas on utility vehicles are drive shafts, wheel hubs, and the CV joints on the axles. It is imperative that the mechanics pay close attention to these components.
If the department does not plan to use the vehicle year-round, it is critical that mechanics store it properly for the winter by following several steps to prepare it for winter, including changing the oil, covering it, making sure the gas tank is full, turning it on periodically to ensure the battery does not die, and making sure the tires are inflated properly.
Fuel. The utility vehicle's power source — whether electricity or diesel or regular gasoline — also will help determine its maintenance requirements and performance life. While gasoline-powered vehicles remain top sellers, the demand for electric vehicles has risen, and manufacturers are working to supply the market with these energy-efficient alternatives. Environmentally friendly options not only grounds departments control costs. They also help address sustainability demands their organizations or their state government has implemented.
Despite the selection of attachments available to managers, the most effective and common use of utility vehicles is to transport people and materials around a property in areas not accessible by a truck. They also can be beneficial when managers do not want to buy a truck specifically for landscape operations because the work is taking place off-site and the vehicle would spend most of its time parked at the site.
Although a utility vehicle will not address every equipment need that a grounds care department has, it can increase worker productivity when used in combination with other specialized tools. It also can provide much needed flexibility to address the constant challenges that a landscape
can present.

Mike Fitzpatrick is vice president of U.S. Lawns — www.uslawns.com — which has more than 260 franchises nationwide. He has more than 30 years of experience in the green industry.
Continue Reading:

Grounds Management

Attachments Add to Versatility of Utility Vehicles

Popular Attachment Options for Utility Vehicles

Questions to Consider When Assessing Utility Vehicle Needs
---
---
---
Related Topics:
Comments