Mowers: Ensuring Safe Operation
Mower features and functions can provide safety — but only if operators use them
OTHER PARTS OF THIS ARTICLE
Pt. 1: This Page
Pt. 2:
Mowers: Safety Training for Technicians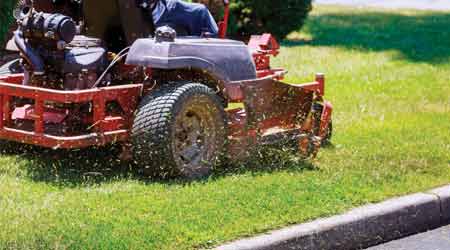 Mowers are the workhorses of many grounds departments in commercial and institutional facilities, where the appearance of turf and landscaped areas go a long way in creating a positive image for occupants and visitors. While many grounds managers understandably focus on such considerations as first cost, versatility, and durability when purchasing mowers that will help them achieve these goals, the safety of operators and mechanics using the equipment daily also should be a high priority.
By focusing on mower features and functions related to safety and understanding training options and needs, managers can provide staff with equipment that ensures their safety and improves their comfort and productivity.
Safety and specification
Over the last several years, manufacturers have made a concentrated effort to introduce and improve features and functions for mowers that address operator safety. Two of the most common safety features incorporated into mowers are rollover protection structures (ROPS) and seat belts.
"Recently, there has been an increased focus on rollover protection," says Tom Vachal wit Kubota Tractor Corp. "Properly installed ROPS and seat belts are critical for operator safety. For the safety equipment to work as intended, the ROPS and seat belt should always be used."
In addition to ROPS and seat belts, manufacturers also emphasize four-wheel steering and ergonomics to address the overall comfort and safety of operators.
"Four-wheel steering improves side hill stability because it allows the operator control of the front wheels," says Josh Sooy with Cub Cadet. "By utilizing 4 wheel steering, combined with the dual rear wheels, an operator can mow slopes all the way up to 25 degrees."
On your standard zero turn mower, "front casters wheel follow wherever the front of the machine wants to go," he says. "If you're on a slope, you're basically using your rear hydros to keep the nose of the machine from drifting downhill because the only control of the machine you have is in the rear. With four-wheel steering, you are actually steering all the wheels together, so it keeps your front wheels on track instead of letting gravity pull the machine downhill."
Seat belts, ROPS, and four-wheel steering are designed to keep operators safe while operating mowers, but the grind of a full day of mowing can lead to fatigue, which can compromise safe equipment operation. To address this issue of fatigue when operating a mower for up to eight hours day, mower manufacturers are taking steps to address ergonomic and comfort. Their goals go beyond these two issues, though.
"According to the American College of Occupational and Environmental Medicine, Cumulative Trauma Disorders (CDT) contribute to absenteeism and increased healthcare costs," says Brian Schoenthaler with Grasshopper. "Such disorders may include tendonitis, carpal tunnel syndrome and lower back pain.
"Mowers are now designed to increase operator comfort and productivity while reducing repetitive motion, posture vibration, hand exertion and lifting," he says. "Seat features include lumbar support, padded armrests and a footrest. Dual-steering-lever design eliminates foot pedals to push reducing foot and ankle fatigue and provide up to 9 inches of adjustment fore and aft to fit all sizes of operators."
As manufacturers target safety, comfort and ergonomics turn out technologically advanced mowers and grounds equipment, keeping up with the technology and making smart purchasing decisions can be challenging. For these reasons, managers can compare products based in part on national standards designed to improve equipment safety and performance.
"Every mower that is purchased should meet American National Standards Institute (ANSI) regulations and be equipped with a fixed roll-over protective structure (ROPS), including a seatbelt," Schoenthaler says. "The ROPS should never be removed. If a mower is equipped with an optional foldable ROPS, it should never be operated with the ROPS in the folded position. It should also never be operated in that position while wearing a seatbelt. The foldable ROPS is only intended to assist in storage where overhead space is minimal.
"Managers should also look for dampened steering levers that smooth out the ride. Steering levers should return to neutral when the operator lets go of them. When this happens, the mower will safely come to a full stop. The low center of gravity design on some mowers provides better handling and stability allowing operators to mow comfortably at all speeds."
Continue Reading:

Supplier Perspectives

Mowers: Ensuring Safe Operation

Mowers: Safety Training for Technicians
---
---
---
Related Topics:
Comments