You Might Like
On FacilitiesNet
Light-Construction Equipment: Training Pays Dividends
While mowers remain workhorses, equipment such as skid steers and excavators can round out the grounds care arsenal
OTHER PARTS OF THIS ARTICLE
Pt. 1:
Light-Construction Grounds Equipment Comes of Age
Pt. 2: This Page
Pt. 3:
Specification Strategies for Light-Construction Equipment
Pt. 4:
Maximizing Investments in Light-Construction Equipment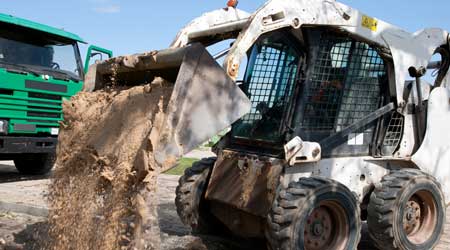 Over the past 18 months, our company has added four mini skid steers to our equipment fleet. After purchasing our first two units, we quickly realized the immense value these pieces of equipment brought to our operations. The mini skid steers are extremely agile, giving crews the ability to reduce manual labor-intensive processes in tight areas where a larger piece of equipment was not suitable.
The capacity to complete recurring tasks such as trenching, tilling, cultivating and auguring quickly and easily exceeds the capabilities of larger pieces of equipment. Additionally, the smaller, lighter-weight mini skid steers minimize the chances of causing unintended damage to sod or areas with recently poured concrete.
Early analysis of the use of mini skid steers indicated more than a 50 percent reduction of labor in various tasks. In addition to the reduction in labor costs, employees became more productive in other areas of the job site due to a decrease in manual labor processes provided by the mini skid steer. Operating more efficiently also has increased crews' ability to meet or exceed project deadlines and increased employee morale due to investing in equipment that helps make their jobs easier.
Training operators on the use and upkeep of mini skid steers has been seamless. With the quick training cycle and ease of use, there is also less potential for operator errors. The smaller equipment is more agile and more fuel efficient, leading to added cost savings. The quality of the units has resulted in minimal mechanical issues, which has reduced downtime on job sites and lower equipment-repair costs. Working with the manufacturer on scheduled maintenance also has proven to be a seamless process, with services completed in a timely manner with negligible strains on the operations.
The mini skid steers have proven to be well-built, heavy-duty machines that hold up to the extended wear and tear of daily use. We quickly determined that adding two more of the unit to our fleet was not only desirable, but a necessity. Operationally, the mini-skid steers have provided a double benefit since their introduction to the field operations.
Laura Austin is chief operating officer with Gibson Landscape Services in Alpharetta, Ga.
Continue Reading:

Light-Construction Grounds Equipment Comes of Age

Light-Construction Equipment: Training Pays Dividends

Specification Strategies for Light-Construction Equipment

Maximizing Investments in Light-Construction Equipment
---
---
---
Related Topics:
Comments