Impact of Staff on Utility Vehicle Decisions
Part 2 of a 3 part article on sustainability, reliability and versatility of utility vehicles
OTHER PARTS OF THIS ARTICLE
Pt. 1:
California Campus Capitalizes on Versatility of Utility Vehicles
Pt. 2:
Specifying Utility Vehicles for Sustainability
Pt. 3: This Page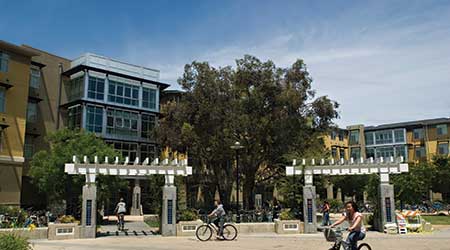 As the department members most directly affected by the specification of utility vehicles, operators and mechanics can play central roles in vehicle specification. In Avery's case, staff members can bring a promising prospect to his attention.
"Usually, a supervisor or employee will come in and tell us about something that they've seen or they like.," he says. "In terms of what we have already, we're constantly getting feedback on things like durability and usefulness, but I do rely on my mechanic, as well, in our purchasing decisions on utility vehicles specifically because we're always looking for something that's going to hold up."
But mechanics and operators also play a vital role in ensuring that utility vehicles remain in service and in safe and reliable condition, which are important for ensuring a solid return on investment.
"The biggest lesson for us is training the grounds staff to take care of" the vehicles, Avery says. "It's not just making sure they clean them. It's also making sure they're checking the oil and doing the normal things for tires, as an example. Basic maintenance is really important to us and the most important thing for the fleets. These vehicles are being use constantly, eight hours a day.
"We have a deferred maintenance program, so every so many hours, they're serviced, and they're checked nightly by the mechanics to make sure they're still in operating and that there's not a brake light missing or something like that."
Continue Reading:

Grounds Management

California Campus Capitalizes on Versatility of Utility Vehicles

Specifying Utility Vehicles for Sustainability

Impact of Staff on Utility Vehicle Decisions
---
---
---
Related Topics:
Comments