Grounds Management: Easy Answers on Hardscapes
Smart decisions on concrete surfaces, lighting and retaining walls can provide benefits for landscapes
OTHER PARTS OF THIS ARTICLE
Pt. 1: This Page
Pt. 2:
Hardscape Maintenance Pays Dividends for Facilities
Pt. 3:
Hardscapes: Design and Guidelines for Success
Pt. 4:
Handheld Grounds Equipment Puts Power in Technicians' Hands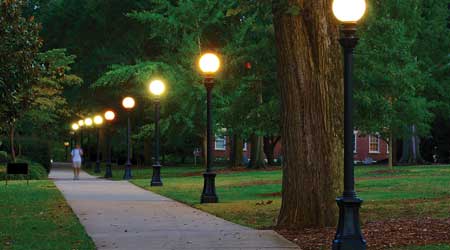 Proper hardscape selection and management are important parts of a high-quality landscape. Traditionally, hardscapes consist of pavement, lighting, fences, retaining walls and other non-living features of landscapes around institutional and commercial facilities.
These components are easy to overlook during the planning phase of a project and even easier to neglect during routine maintenance scheduling. Grounds managers who take the time to plan for these tasks can avoid increased costs while delivering both sustainability gains and financial savings for their organizations.
Coming of age
Not long ago, hardscapes were regarded only as needed infrastructure — paths to lead pedestrians, lights for safety, and walls for soil containment. This approach has changed, allowing for unique opportunities. Pavement can be permeable to allow water infiltration, lighting used for safety and aesthetic purposes can incorporate LED technology to reduce power use, and walls can mimic natural materials or sustainably use construction waste and recycled materials.
Managers now have many more options when it comes to incorporating concrete surfaces. They can choose colored or stained surfaces to meet design needs, and they can choose permeable options to suit the functional needs of a landscape.
With many municipalities enacting ordinances mandating a minimal amount of non-porous surfaces to protect watersheds, using permeable pavement that allows water to pass through will provide the flexibility needed to provide safe access to a facility while protecting local water sources from runoff.
At the same time, the role of lighting in landscapes has completely transformed in recent years due to technology. LED lighting has allowed for lower-voltage fixtures and lower-wattage bulbs, reducing the costs of purchasing, installing and maintaining the lighting infrastructure. The energy costs associated with LED lights also typically provide a positive return on investment to the facility, making the decision easier during the planning phase of a project or renovation.
New technologies in low-voltage LED lighting allow for color choices and wi-fi programing with simplified installation. The lower wattage of LED lights reduces the wiring costs of projects without sacrificing lighting intensity. Controllers now enable managers and technicians to individually dim fixtures and change light colors, as well as create lighting programs on a shared wire path, assuming compatible bulbs were installed. This gives managers unlimited options for showcasing properties during events and holidays without having to sacrifice the lighting quality needed for everyday safety.
Retaining walls also have evolved and now allow for myriad color and design choices. They also can showcase a facility's commitment to environmentally sustainable practices and materials. Concrete block choices have realistic options that mimic rock formations and walls without the higher installation costs of masonry.
For sustainable, modern design projects, gabion walls enable managers to use recycled concrete and bricks to provide structure while reducing landfill space needed for construction debris. Depending on the project, managers might be able to source this product onsite, further increasing the project's sustainability benefits.
Continue Reading:

Grounds Management

Grounds Management: Easy Answers on Hardscapes

Hardscape Maintenance Pays Dividends for Facilities

Hardscapes: Design and Guidelines for Success

Handheld Grounds Equipment Puts Power in Technicians' Hands
---
---
---
Related Topics:
Comments