Getting The Most Out of Irrigation Systems
Focusing on equipment performance, water efficiency and chemical use can benefit operations and the environment
OTHER PARTS OF THIS ARTICLE
Pt. 1:
Environmentally Friendly Practices and Their Impact on Landscapes
Pt. 2:
Landscapes and Integrated Pest Management
Pt. 3: This Page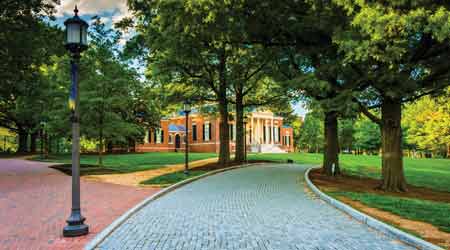 Landscapes can lose as much as 50 percent of irrigation water through wind, evaporation, and improper system installation or poor maintenance, according to the Federal Emergency Management Agency, The good news for managers and technicians is that irrigation technology has come a long way in recent years. Enabling them to take relatively simple steps to improve the efficiency of irrigation systems.

They can install smart controllers that allow watering by zone and season, meaning technicians can water different zones based on the types of plantings, the amount of sun or shade, and soil type, as well as adjust for rainfall. Some sensors automatically turn off the system when it's raining.

Technicians can replace old sprinkler heads with new, high-efficiency nozzles, which conserve by watering more evenly and minimizing wind drift.

Technicians can replace traditional irrigation systems around shrubs and trees and in plant and flower beds with high-efficiency drip-irrigation systems, which water more slowly and deeply with minimal runoff and evaporation.

Effective maintenance of irrigation systems also is essential to conserve water. Technicians should perform a routine inspection of the irrigation system, checking for leaks and water pressure problems and making sure check valves work properly to prevent water from draining out of the system.

They should address service and repairs immediately to keep the system operating at peak efficiency, which conserves water and energy.

Finally, they should make sure proper winterization and spring startup services take place every fall and spring to prevent costly and unnecessary damage to the irrigation system.

Crews also can use natural assets, such as mulch and rain runoff, to support the irrigation system and help hydrate the greenery. They also can save water by using native plants and trees that are already tolerant to local conditions and,as a result, require less water than exotic plants from faraway regions.

As managers examine strategies and tactics to maximize sustainability during daily operations, it is important to remember that each aspect of conservation also improves efficiency, minimizes waste, holds down non-billable hours in service and repairs, and helps prevent service fees and downtime, all of which also benefit the bottom line. Looking at sustainability with fresh eyes can improve the health of landscapes, the environment, and the organization.

Mike Fitzpatrick is vice president of U.S. Lawns — www.uslawns.com — which has more than 260 franchises nationwide. Fitzpatrick has more than 30 years of experience in the green industry.
Continue Reading:

Grounds Management

Environmentally Friendly Practices and Their Impact on Landscapes

Landscapes and Integrated Pest Management

Getting The Most Out of Irrigation Systems
---
---
---
Related Topics:
Comments