Equipment Inspection, Training Key to Snow and Ice Management Success
Preparation for the long, cold winter ahead must include a thorough inspection of all snow- and ice-removal equipment, as well as training key personnel on proper procedures.
OTHER PARTS OF THIS ARTICLE
Pt. 1:
Cold-Weather Considerations: Preparing for Winter's Worst
Pt. 2: This Page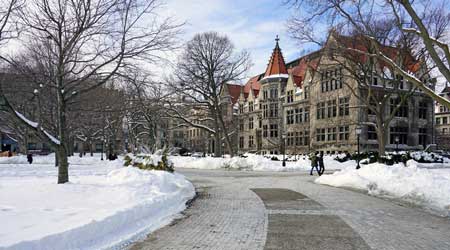 Operators and mechanics should inspect all snow- and ice-management equipment before the season begins to give them ample time for repairs and purchases. Equipment inspections also should include a full preventive maintenance (PM) program.
PMs should include all items detailed in their owner's manuals and a visual inspection for wear and damage. Operators should identify and stock key items subject to wear and tear before the season begins, and they should prepare emergency repair part kits and place them in the vehicle. The goal is to minimize downtime and trips back to the equipment shop.
Before the first snowfall, operators should inspect plow edges for wear evenness. If their wear is uneven, they require adjustment. Under no circumstances should an operator use a plow if its edge is worn past the manufacturer's specifications because such use can damage the integrity of the plow and cause premature equipment failure.
An essential part of any snow-removal plan is an accurate review of equipment inventory with an estimate of usable life remaining. This step helps managers identify capital-equipment needs with enough time to get the needed approvals, but they need to make sure the inventory lists attachments as a sub-item of the main piece of equipment. Doing so allows the manager to make separate quality assessments while acknowledging attachments are only useful for the main piece of equipment.
Training for success
Preparations for snow- and ice-management include training and orientation for equipment operators and mechanics that ranges from refreshers for experienced team members to full training and tours of the property for new members of the operation. If routes, zones and equipment have not changed from the year before, managers still need to make sure that team members go through refresher training that includes driving the entire area to be cleared.
Training allows operators to mark key areas that are visible under snow cover, and it provides ample opportunity to document areas of pavement deterioration that they need to handle differently.
Most departments are likely to need expanded training for their teams. The property probably has changed since last year, especially considering the unique situations that the COVID-19 pandemic has presented, and some team members are either new to snow removal or to the property. If possible, managers should have these team members ride with experienced employees for the first couple of snow events. If this is not possible, they can have a supervisor ensure that the new members can safely operate the equipment once snow-removal operations have begun.
Ideally, managers can schedule safety training before the season begins, as well as weekly and before each snow event, and managers should document training and include rosters of those in attendance. The training should address proper lifting techniques and sleep- deprivation awareness. Managers should not allow an employee to operate equipment without the needed safety and equipment training.
During orientation and training, managers should consider introducing their team to checklists that cover all the needed tasks on their route. Doing so will force managers and supervisors to think through each area and aspect of the process, eliminate guesswork in the middle of the night, and provide the documentation needed to show that an area was cleared. By working through these checklists with each team member, managers can ensure they know what is expected of them for each area they clear.
Snow removal is an excellent example of the saying, "Failing to plan is planning to fail." An in-depth snow plan is critical to the success of any operation, and should be written and reviewed well before snow begins to fall. By starting as early as possible, managers will give themselves time to meet with key stakeholders, adjust the plan for the situation, evaluate their equipment needs and train crews for the long days and nights ahead.
Brandon Haley, CGM, is a grounds project manager for SSC – Services for Education, a University and K-12 facilities services provider. He is also a certified grounds manager through the Professional Grounds Management Society with 22 years of experience in the green industry.
Continue Reading:

Snow and Ice Management

Cold-Weather Considerations: Preparing for Winter's Worst

Equipment Inspection, Training Key to Snow and Ice Management Success
---
---
---
Related Topics:
Comments