ZEB @ BCA Academy: Singapore's First Zero Net Energy Building
Part 4 of a four-part article on baseline techniques for making zero net energy buildings more common.
OTHER PARTS OF THIS ARTICLE
Pt. 1:
Strategies for Scaling Up To Zero Net Energy Buildings
Pt. 2:
To Get to Zero Net Energy, First Focus on Reducing Energy Consumption
Pt. 3:
7 Factors That Create a Zero Net Energy Candidate
Pt. 4: This Page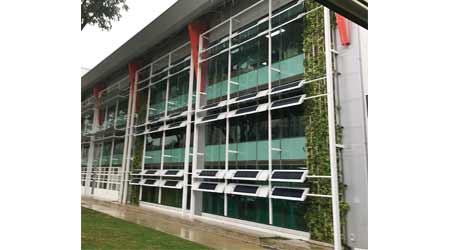 Getting to zero net energy (ZNE) is no easy feat no matter the weather, but a hot, humid year-round tropical climate makes it extremely difficult. That's why in all of Southeast Asia, there's only one — the Zero Energy Building at the Building and Construction Authority Academy of Singapore (ZEB @ BCA Academy, for short). The nearly 50,000-square-foot, three-story building is intended as a proving ground for building technologies to help show that ZNE truly is possible in the tropics. ZEB @ BCA Academy achieved zero net energy after a $7.6 million (USD) large-scale retrofit.

Because of the climate, about 50 percent of the building's energy use is for HVAC (20 percent for lighting, 30 percent for plug loads), high by comparison with U.S. ZNE buildings, which generally split energy spend evenly into thirds between HVAC, lighting, and plug loads — though some ultra-efficient buildings have plug load percentage as high as 50 percent.

The roof on ZEB @ BCA Academy includes a 207,000-kWh PV array that by area is larger than an Olympic swimming pool. A rooftop garden on one section of roof also helps reduce temperatures on the top floor of the building. Light shelves, solar shades, and mirror ducts all work together to bring daylight into the interior of the building. Plants also feature prominently along many of the building walls to provide shade and reduce indoor temperature.

Occupants in the building – about 80 total, though the building also contains classroom and lecture space – have individual ventilation and temperature control at their desks. And the building is controlled with a sophisticated building management system that delivers data and analytics to several dashboards through the building, as several dozen visitors tour the building per week.

Overall, the building is about 40 to 50 percent more energy efficient than a traditional Singapore building. It saves $84,000 per year in Singapore dollars on electricity.
Continue Reading:

Zero Net Energy Buildings

Strategies for Scaling Up To Zero Net Energy Buildings

To Get to Zero Net Energy, First Focus on Reducing Energy Consumption

7 Factors That Create a Zero Net Energy Candidate

ZEB @ BCA Academy: Singapore's First Zero Net Energy Building
---
---
---
Related Topics:
Comments