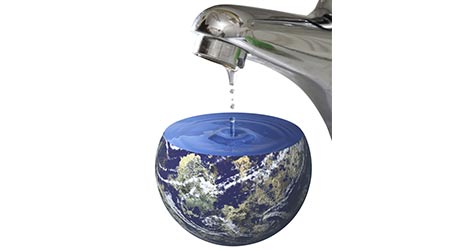 WaterSense: Best Resource for Water-Saving Products
Second part of a two-part article on how EPA's WaterSense can help FMs save water and money.
EPA's WaterSense label is a good place to start the search for products to renovate commercial restrooms. Nearly 3,000 different models of urinals, tank-type toilets, and flushometer-valve water closets have earned the WaterSense label, all of which have been independently certified to meet EPA's criteria for efficiency and performance. This ensures that while the fixtures use less water, they also provide the same powerful flush tenants have come to expect. The release of WaterSense's flushometer-valve toilet specification adds to a suite of labeled bathroom fixtures available for commercial and institutional facilities. Like the high-efficiency urinals and tank-type toilets that earned the label before them, WaterSense labeled flushometer-valve toilets must undergo testing and independent certification to ensure their performance in the commercial restroom setting.

The savings don't have to stop in the restroom. Many facilities have shower rooms associated with fitness centers or changing rooms. Switching showerheads to WaterSense-labeled models can provide significant savings, as they also improve energy efficiency by reducing hot water use.

When developing specifications for products that can earn the WaterSense label, EPA conducts market research and technical analysis to evaluate potential water savings, as well as possible environmental and economic impacts. EPA solicits input from industry stakeholders early in the process and assesses existing performance test methods. Draft product specifications are released publicly for review and comment from stakeholders. For flushometer-valve toilets, for example, EPA reviewed input from product manufacturers, water utilities, facility managers, and others to ensure that the toilets earning the label would perform in real-world applications.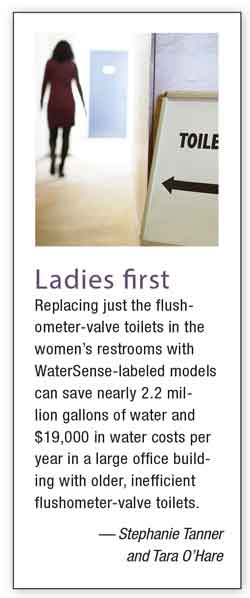 Spec for flushometer-valve toilets
Typically found in public-use settings, flushometer-valve toilets have greatly improved in efficiency since the 1990s. EPA's specification sets the maximum flush volume for WaterSense labeled flushometer-valve toilets at 1.28 gallons per flush (gpf), or 20 percent less water than the federal standard. The maximum flush volume applies to both single- and dual-flush toilets. The specification also incorporates a minimum flush volume of 1.0 gpf to ensure plumbing systems have adequate flow to function effectively.

The minimum flush volume is designed to answer one question that arose in public comments on the draft WaterSense product specification for flushometer-valve toilets: Could the reduced flush volumes associated with high-efficiency fixtures adequately transport waste through sanitary systems, or would they cause drainline blockages? This was of particular concern in larger buildings with long, horizontal drainline runs.

In November 2012, the Plumbing Efficiency Research Coalition (PERC) published the results of a study on drainline carry in commercial settings. PERC examined the drainline carry performance of toilets with 0.8, 1.28, and 1.6 gpf volumes. The PERC study found that the 1.28 and 1.6 gpf toilets showed similar drainline performance. From this, EPA concluded that high-efficiency 1.28 gpf toilets in new commercial construction would not create drainline blockages. However, EPA recommends that facility managers consult a plumbing engineer if they have questions about using WaterSense labeled flushometer-valve toilets in their building.

PERC continued to evaluate the impact of flush volumes on drainline transport in version 2.0 of its study and a recently released version 2.1, which looked more closely at flush volumes around 1.0 gpf, dual-flush fixtures, and the slope of the drainline. While the studies did indicate that drainline performance becomes erratic at flush volumes below 1.0 gpf, PERC also noted that, "these models should perform well in their intended applications assuming additional long-duration flows from other water-consuming appliances, plumbing fixtures, and other devices are available to assist with the drainline transport of solid wastes." Based in part of these findings, models flushing as low as 1.0 gpf are eligible for the WaterSense label. However, as with all plumbing fixture upgrades, facility managers or their plumbing engineers should carefully evaluate the condition of the plumbing system to ensure that it is compatible with the anticipated replacement fixtures.

Valves and bowls can be tested and labeled separately or as a complete system. To ensure that the individual components can be used in combination to meet WaterSense's requirements for efficiency and performance, facility managers should consult the product information provided by the manufacturer and choose a flushometer valve and toilet fixture that have compatible flush volumes, as indicated on the WaterSense website.

More opportunities
Commercial restrooms are the tip of the iceberg when it comes to potential water savings, but they are a good place to start when facility renovations are anticipated or plumbing upgrades are merited. WaterSense-labeled flushometer-valve toilets cap off a full suite of high-efficiency plumbing fixtures that commercial and institutional facilities can install to achieve water savings. Others include:

• Tank-Type Toilets: WaterSense-labeled models flush at 1.28 gpf or less and are independently certified to meet waste removal performance requirements. WaterSense-labeled dual-flush tank-type toilets must also not exceed an "effective flush volume" — or the average flush volume of two reduced flushes and one full flush — of 1.28 gpf.

• Urinals: WaterSense-labeled models flush at 0.5 gpf or less — 50 percent less water than the federal standard.

• Showerheads: WaterSense-labeled models flow at 2.0 gpm or less and must meet spray coverage and force requirements. Because showerheads use hot water, retrofitting them can contribute significant energy savings in fitness center locker rooms.

• Faucets: WaterSense does not have a specification for faucets intended for public-use restrooms, but facility staff can replace faucet aerators with high-efficiency models that flow at 0.5 gpm to save energy and water.
Maximizing restroom water efficiency can result in significant operational cost savings, especially if fixtures have not been replaced since the mid-1990s. If a typical large office building (with 2,500 occupants) replaces its older, inefficient toilets and urinals with WaterSense-labeled models and installs 0.5 gpm faucet aerators on standard faucets, it could save nearly 3.9 million gallons of water and more than $34,000 in water costs per year. (Savings based on 2014 American Water Works Association Water and Wastewater Rate Survey.) Even in a medium-sized office building with 270 occupants, the savings are still significant — 420,000 gallons of water and nearly $3,700 annually.
Stephanie Tanner is the lead engineer for EPA's WaterSense program. She is responsible for all technical aspects of WaterSense labeled product specifications. She can be reached at tanner.stephanie@epa.gov. Tara O'Hare is the implementation and commercial outreach lead for WaterSense.
Email comments and questions to edward.sullivan@tradepress.com.
For access to training webinars on reducing water use more and to search for WaterSense labeled products, visit the WaterSense website.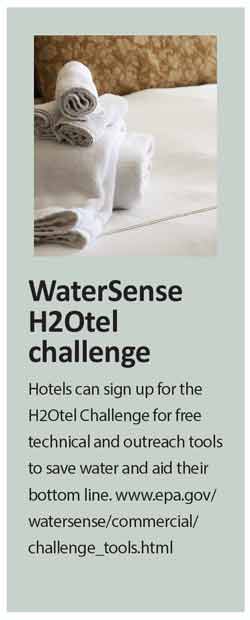 Continue Reading:

Water Conservation

How Using WaterSense Standards and Products Saves Water One Drop At a Time

WaterSense: Best Resource for Water-Saving Products
---
---
---
Related Topics: