Water Credential Would Need To Include Information On Codes, Standards, Regulations And Rating Systems
A water credential for facility managers would need to not only include training on efficiency, but also information on the water aspects of codes, standards, regulations and rating systems.
The second part of the certification would provide information on a multitude of new codes, standards, regulations, and rating systems that are changing rapidly. This section would both describe these changes and show how they will impact future operations. Such codes and standards include new green plumbing and mechanical codes, new federal regulations, and green building rating systems, such as The Living Building Challenge, Green Globes, and LEED.
Understanding Water Use
The third part would provide an understanding of the technologies and systems commonly found in commercial and institutional facilities. Water is used in a variety of ways by different commercial and institutional operations, and understanding the way new technologies are evolving is critical to helping facility managers understand how water is used in a building. The training would provide insight into these technologies and water uses.
The fourth would examine ways to implement water efficiency in the facility, including development of a comprehensive water efficiency program, written down and standardized. This would also teach facility managers about financing, rebates, and other assistance sources for water efficiency upgrades, including performance contracting. Facility managers would also learn how to commission new water efficient installations, and measure and verify performance results.
Finally, the fifth part of the certification would provide teaching on other sources of assistance, information, organizations, and best management practice guides.
The intended result of the training is to provide the facility manager and engineer with the tools needed to meet the challenges of rising water cost, new codes and regulations, and evolving technologies. The opportunity for savings is incredible, but, despite the commitment of groups such as IAPMO, AWE and ASPE, the successful implementation of a program of this scope would also require the support of building owners and management groups. One comprehensive, industry-based certification would provide integrity, consistency, and validity.
Bill Hoffman, senior technical advisor for Water Management, Inc., has more than 40 years of water conservation and water resource planning experience. He has been involved in the development of water conservation legislation and in the development of new rating tools for both the U.S. Green Building Council's LEED program and Green Globes. Hoffman can be reached at billhoffmantx@earthlink.net.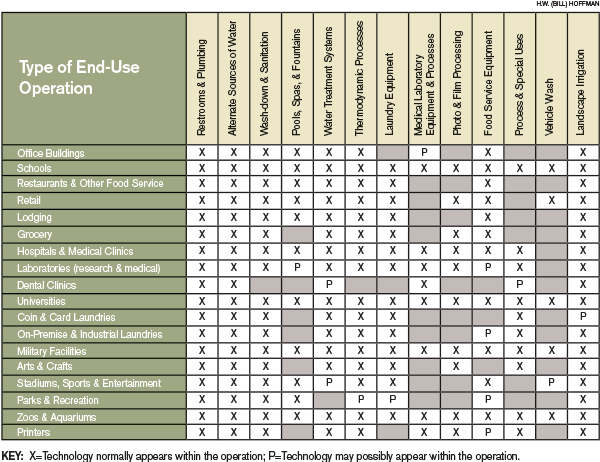 Continue Reading:

Rising Water Prices Mean It's Time For A Professional Water Certification For Facility Managers

Water Credential For Facility Managers Would Focus On Efficiency, Metering and Usage

Water Credential Would Need To Include Information On Codes, Standards, Regulations And Rating Systems
---
---
Comments