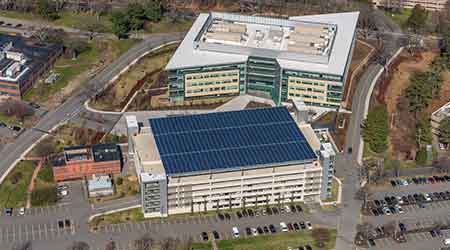 Warren Patterson Photography
Tips for Designing and Operating Solar Canopies
Keep these strategies in mind to ensure solar canopies operate safely and efficiently for the long-term.
A well-designed and engineered system will eliminate most challenges and negative experiences following construction. Some parking areas lend themselves better to solar installation than others so there can be vast differences in output and savings. While the efficiency of each system varies based on footprint, seasonal solar direction, and voltage capacity, there are factors that should be applied to all systems to help boost productivity.
A permanent attachment with structural steel is the safest option, especially during stormy conditions. Situating the solar arrays atop parking areas as an upper deck canopy allows green spaces to remain intact and provides tenants with the added benefit of covered parking during inclement weather. Covered parking also reduces snow removal efforts and the use of salt and chemicals, further protecting the surrounding ecosystem, and keeps tenant vehicles protected from the elements.
The upper deck canopy enhances storm water management efforts, allowing rainwater to be harvested more efficiently. The array can be strategically angled to direct the water from rain and melting snow into a gasketing system installed around the periphery. Water is then funneled directly into the storm water management system rather than dripping between the panels of the array onto commuters and their cars. Water can be stored in a cistern system and treated to be used on site for landscaping needs, factoring into the building's overall storm water management strategy.
After installation, each array is commissioned and checked to assure it is running as efficiently as planned. Monitors built into each array report performance on an hourly basis via a dashboard and immediately detect any malfunctions. The inclusion of optimizing equipment can remotely fix most problems. On the rare occasion a panel on the array needs replacement, staff electricians can easily and quickly replace it. Since even miniscule scratches can affect module operation, maintenance should be limited to necessary repairs only. The arrays themselves are essentially self-cleaning; rainwater is sufficient for keeping them clean.
Arrays are designed to withstand extreme cold temperatures, strong winds, and heavy snow pack. During a typical New England winter, the design is such that snow does not linger long. The deep blue-black color of the array, combined with the power of sunlight, gathers heat to efficiently melt the snow. A very harsh winter with little sunlight will, of course, reduce energy production.
Continue Reading:

Solar Canopies

4 Steps for Planning Solar Power Canopies in Parking Areas

Tips for Designing and Operating Solar Canopies

Solar Canopies Case Study: Best Practices Revealed
---
---
---
Related Topics: