The New Way Forward with LEED v4.1
The new rating systems will roll out in beta versions over the course of 2018, giving users a chance to test out the new system, while still having the option to use v4 for projects.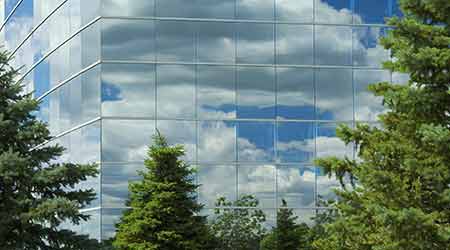 Over the course of its nearly 20 year life span, the LEED (Leadership in Energy and Environmental Design) green building rating system has gone through several iterations. By design, the rating system has evolved with changes in technology and expertise, gradually pushing the building industry toward a more transparent, sustainable, and prosperous future.
Today, LEED is the most widely used green building rating system in the world, with projects in all 50 U.S. states and 167 countries and territories around the globe. When LEED v4 was announced in 2013, it represented a new approach to building design, construction and operations. With an increased emphasis on building performance, materials and resources, siting, and adaptability for specific space types, LEED v4 has successfully pushed practitioners to create spaces that support the health and well being of occupants and the surrounding environment at an elevated level.
With 2018 now well underway, USGBC is rolling out LEED v4.1 in beta, allowing USGBC members and customers to participate in the development of this update to the rating system, to ensure it meets the needs of the market while maintaining the level of rigor the world has come to expect from LEED. The first beta will be LEED v4.1 for Operations and Maintenance, followed by Building Design & Construction, Interior Design & Construction, residential and Neighborhood Development.
LEED v4.1 is the embodiment of a new way forward with LEED. Since the very early days of USGBC's existence, we have touted our vision of green buildings for all within a generation. In order to make the necessary leaps and bounds to realize this vision, we are paying greater attention to the accessibility of LEED as a product, and as a program. Green building practices and certification work for every building type, and the updates in LEED v4.1 will help us deliver our vision while ensuring that all LEED-certified buildings perform and fulfill the promise of their design.
As we unveil this new iteration of LEED, we aim to address market barriers and lessons learned from LEED v4 project teams, updating requirements that, in practice, have not produced the intended outcomes, and ensuring LEED remains accessible to diverse building types. As LEED v4 has been online for four years, a number of the referenced standards have been updated and adjusted, so LEED v4.1 addresses those changes as well.
LEED will now incorporate performance reporting, to enable building owners to report and track progress toward environmental, social and governance goals with ease and agility. The new version of LEED will empower teams to track and assess holistic building performance against targets established during project design and to link new construction strategies to intended outcomes and key performance indicators.
Above all, LEED v4.1 aims to improve performance throughout a building's lifetime, and expands the reach and relevancy of LEED globally. By incorporating additional international compliance paths and reference standards, aligning requirements with other GBCI rating systems, and providing a streamlined pathway for ongoing, performance data-driven certification, the new way forward with LEED is one of transparency and inclusivity.
As the test period for LEED v4.1 begins, project teams have the opportunity to review the changes and try them out. The public comment and balloting process will unfold shortly after so that everyone can engage with the rating system and provide feedback. When USGBC rolled out LEED v4, we learned a lot – and as we work to develop LEED further, we are committed to making LEED v4.1 development inclusive, transparent and collaborative. It's also important to note that LEED v4 will remain fully available for use by projects during this process.
---
---
---
Related Topics:
Comments