The Nature of a REIT Means Challenges to Sustainability Success
To overcome these pressures and to pursue sustainability pilots in areas like health, biodiversity, and others, Neff launched the Kilroy Innovation Lab.
OTHER PARTS OF THIS ARTICLE
Pt. 1:
Leadership, Listening Lead to Sustainability Gains at Large REIT
Pt. 2:
Collaboration Is Catalyst for Sustainability Success at Kilroy
Pt. 3: This Page
Pt. 4:
For Facility Managers, Networking is Essential for Sharing Best Practices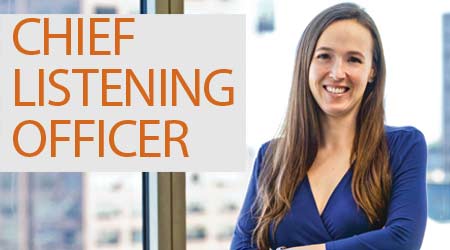 Being a REIT means Kilroy has some slightly different pressures than other commercial office space when pursuing sustainability strategies. The way corporate income tax is paid is different, which impacts anything that would depend on a tax credit incentive, such as solar or energy storage.
However, REITs are incentivized to hold onto their assets for a long time, Neff says. This allows Kilroy to try out ideas that wouldn't work financially in a buy-to-flip scenario. "It gives us a longer time horizon to think about these things," Neff says. "It makes us think of the overall value of a building."
A longer hold can also be a double-edged sword when approaching really new and innovative technologies. For that reason, Neff treads carefully in new territory. "You have to manage your risk with failure," she says. It's one of the reasons she launched the Kilroy Innovation Lab in 2017. It's a formalized way to pursue sustainability pilots in areas like health, biodiversity, water and energy efficiency, financial structures, and others before they are deployed to the portfolio at large.
Her goal in launching the Innovation Lab was to show that it is possible to deploy many different pilots quickly. This helps to overcome the inherently conservative (and slow) nature of real estate in pursuing sustainability innovations. The caution is merited. Sometimes a promising startup goes out of business before a project can get off the ground. Sometimes the technology just ends up not being a good fit for the team or the building. And sometimes the savings just don't materialize, even if everything else falls into place. That's where performance contracting comes into play. It's required for all efficiency projects that come out of the sustainability budget, including pilots. "You have to manage your risk up front, and then basically the only thing you've wasted is your time," Neff says.
Steps to success
While not everyone can enjoy the benefit of a top-down directive to lead the market on sustainability, there are steps any facility manager can borrow from Kilroy's strategy. First of all, results have to be measured. Nobody likes doing measurement and verification, Neff says. It's tedious, and you just want to move on to the excitement of the next project. But unless you have the numbers to back up the claimed benefit of a sustainability strategy, it will be very difficult to build up the credibility needed to pursue more ambitious projects, she says.
Highlighting the good work of the team is another step to take. This promotes the collaborative culture that gets the larger team at Kilroy to keep their eyes open for sustainability opportunities within their own areas to bring to Neff's attention. "Any time anybody goes out of their way to try to help, I try to celebrate that," she says. In the sustainability report, for example, Neff takes care to call out specific properties that have executed great projects and give credit to the project teams. "Sustainability makes everybody's job harder," she says. "I'm asking people to disrupt how they do business as usual, and everybody is very busy here. I think a lot of gratitude has to come in."
It also helps to have someone like Neff, who can champion sustainability and really understand and advocate for projects. In Neff's particular case, her personal enthusiasm and energy for sustainability is a huge asset for Kilroy, says Swartz. "I've seen her with internal large groups, covering some topics that are pretty dense and not too flashy, not too fun," says Swartz. "And yet she has the whole room engaged because of her energy and the passion that she has for it. She just brings a group together with that energy and then focuses it on where we are, what we are doing, and how we are going to get there."
Continue Reading:

Profile: Sara Neff

Leadership, Listening Lead to Sustainability Gains at Large REIT

Collaboration Is Catalyst for Sustainability Success at Kilroy

The Nature of a REIT Means Challenges to Sustainability Success

For Facility Managers, Networking is Essential for Sharing Best Practices
---
---
---
Related Topics:
Comments