TRUE Zero Waste Certification: Re-thinking Resource Life Cycle
The new TRUE (Total Resource Use & Efficiency) certification provides a roadmap that promotes processes that consider how materials flow through a facility.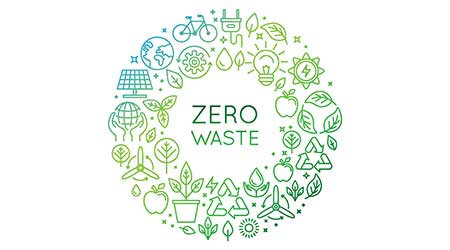 According to the World Bank, by the year 2100, people will be producing three times as much waste as they do today, which means the cost of dealing with waste is also expected to rise. Waste is a costly part of doing business, but more organizations are recognizing the economic, environmental, and social benefits of pursuing zero waste strategies.
Similar to how LEED is transforming the way buildings are planned, designed, constructed, and operated, the TRUE (Total Resource Use & Efficiency) Zero Waste certification system is helping organizations rethink their resource life cycle. Certification is available for any type of facility.
The certification system, which was launched in September, provides a roadmap that promotes processes that consider how materials are flowing through a facility. Companies like Sierra Nevada Brewing Co., Nature's Path, Tesla, and Microsoft have all certified facilities under the TRUE program. Currently, there are more than 130 projects across 20 states and three countries using TRUE, which amounts to more than 268 million total gross square feet of registered or certified space.
TRUE certification and resources
By examining the life cycle of how products are used, facilities can implement strategies that move closer to or achieve zero waste. The TRUE program is assessor-based and rates how well a facility performs in minimizing non-hazardous, solid wastes and whether it is being efficient with resources. A TRUE-certified facility is diverting a minimum of 90 percent of its waste from landfill, incineration (waste-to-energy), and the environment. Green Business Certification Inc. (GBCI), which certifies all LEED projects globally, administers the TRUE program.
A major challenge for companies pursuing zero waste can be knowing where to start and developing the internal expertise to begin a zero waste project. TRUE offers a professional certificate, TRUE Advisor, that indicates a person is a verified expert on the TRUE Zero Waste certification process. By engaging employees as TRUE Advisors, companies begin to find real ways to build a zero waste culture.
There are many ways that zero waste supports businesses.
1. Savings on operational costs: By tracking comprehensive financials, projects quantify avoided waste costs through efficiency and savings from upstream efforts. TRUE certification requires setting up reporting that benchmarks base year performance and ongoing monthly tracking that encourages improvement.
2. Shifting the culture inside and out: A vital part of any zero waste strategy is employee training, and the certification process serves as a professional development and empowerment opportunity. To reach the higher levels of diversion, a culture change needs to happen and ultimately be driven from the top down. TRUE facilities have also found that working with service providers to pursue zero waste has helped to strengthen business relationships.
3. Advancing a green economy: Zero waste strategies promote green jobs and systems that benefit businesses, support public health, and build value for communities. TRUE certification is designed to help eliminate pollution in the air, water, and land.
4. Reporting on progress: Measurement and tracking performance is a vital part of an impactful zero waste strategy. The minimum 12-month reporting requirement is one factor that makes TRUE so comprehensive. In the past, zero waste reporting has varied, but TRUE creates a standard structure that adds credibility and enables projects to celebrate successes.
Businesses around the world are recognizing the imminent challenge waste is creating and acknowledging the benefits of pursuing zero waste. The TRUE Zero Waste program allows organizations to be a part of the waste solution that can transform the market and deliver a healthier, more sustainable future for all.
---
---
---
Related Topics:
Comments