How to Use the LEED Safety First Pilot Credits
The suite of LEED Safety First pilot credits supports project teams as they work toward reentry and safe facility operation.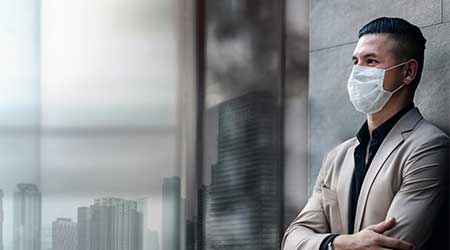 When the COVID-19 pandemic began, it had an immediate impact on how we interact with indoor spaces. From occupancy to cleaning protocols, there were adjustments required throughout the built environment. In response, the U.S. Green Building Council released several key resources as part of its Healthy Economy strategy, including the LEED Safety First credits — a suite of credits that supports project teams as they work toward reentry and safe operation. The credits were designed to be agile, so that as we learn more about the virus that causes COVID-19, the credits could be updated and refined to reflect the most current guidance.
Re-entry
While many buildings and spaces have reopened to the public, there are also still many that are still working towards opening to 100 percent capacity. The Safety First: Re-enter Your Workspace credit is a tool to assess and plan for reentry and to measure progress once the space is occupied. It identifies sustainable requirements in building operations and human behavior that take precautions against the spread of COVID-19. It aligns with the American Institute of Architects (AIA) Re-occupancy Assessment Tool and requires transparent reporting and evaluation of decisions to encourage continuous improvement.
The Safety First: Arc Re-Entry credit helps facility teams manage the risk of infectious disease transmission of COVID-19 supports the use of a comprehensive, integrated process—covering infection control policies and procedures, documentation of alignment with relevant public health authorities, repeated occupant feedback and measurement of indoor air quality.
Building and business closures over weeks or months reduce water usage, which can potentially lead to stagnant water or water that is unsafe to drink or use. Safety First: Building Water System Recommissioning helps building teams reduce the risk that occupants are exposed to degraded water quality integrating recommendations from industry organizations and experts, including the U.S. EPA and the Centers for Disease Control. It requires buildings to develop and implement a water management plan, coordinate with local water and public health authorities, communicate water system activities and associated risks to building occupants, and take steps to address water quality from the community supply, as well as the building
Cleaning and disinfecting
The Safety First: Cleaning and Disinfecting Your Space credit supports a healthy indoor environment as well as worker safety by requiring facilities to create a policy and implement procedures that follow green cleaning best practices. In addition to product considerations, the credit also requires procedures and training for cleaning personnel, occupant education and other services that are within the management team's control.
Indoor Air Quality
Strategies for healthy indoor air have been a mainstay in the LEED rating systems since the program's initial launch in 2000 and over time these strategies have evolved. The Safety First: Managing Indoor Air Quality During COVID-19 credit builds on existing indoor air quality requirements and credits in LEED. Building teams should ensure indoor air quality systems are operating as designed and determine temporary adjustments to ventilation that may minimize the spread of disease. Requirements are based on ASHRAE core recommendations around ventilation, air filtration, inspection and maintenance, as well as on the following measures outlined in public health and industry resources.
The Safety First: Design for Indoor Air Quality and Infection Control credit promotes consideration of the prevention of airborne transmission of SARS-CoV-2 through the air or other airborne diseases during the HVAC system design. Specific attention is given to ventilation and filtration.
The Safety First: Maintenance of HVAC Systems During COVID-19 credit was designed to maintain the well-being of occupants by addressing indoor air quality issues that may influence the spread of the coronavirus. This credit supports the ongoing inspection and maintenance of commercial HVAC systems based on guidance in ASHRAE Standard 180 or Table 8.2 of ASHRAE 62.1-2016 or equivalent. Guidance also addresses providing personal protective equipment (PPE) for building operators and maintenance technicians as appropriate.
City and Community Level Planning
In addition to the credits designed for buildings and spaces listed above, there are also LEED Safety First credits that provide strategies for city and community projects. The Safety First: Pandemic Planning credit is intended to help cities and communities prepare for, control and mitigate the spread of disease during a pandemic that poses a high risk to people..
Safety First: Social Equity in Pandemic Planning systematically considers equity implications across all phases of the pandemic preparedness, planning and response process.
While all these measures are aimed at supporting how building design and operations can help mitigate the spread of disease, including the virus that causes COVID-19, they are also based on ensuring healthy indoor air and spaces even beyond the effects of a pandemic, and they could help frame future long-term updates to the LEED rating systems.
Selina Holmes, is vice president, LEED Marketing, U.S. Green Building Council.
---
---
---
Related Topics:
Comments