How WELL Promotes Workplace Safety, Health, and Confidence
As the coronavirus pandemic rages onward, the WELL rating system offers some key guidance for facility managers hoping to better monitor air quality and occupant health and wellness.
OTHER PARTS OF THIS ARTICLE
Pt. 1: This Page
Pt. 2:
Understanding Advanced Filtration in Air Handling Units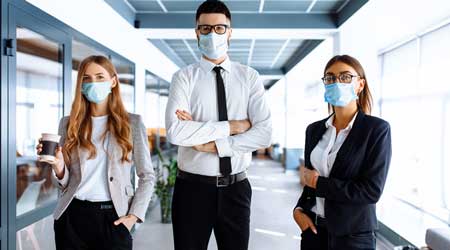 It is almost certain that more workers will return to commercial office buildings before the novel coronavirus, SARS-CoV-2, is wholly defeated. With ongoing concerns about the current pandemic, we have experienced a heightened awareness of people's health and safety in all buildings we enter. At the start of this pandemic, armed with expertise from past pandemic experiences and standards from the CDC, ASHRAE, and the WHO, the International WELL Building Institute (IWBI) was ready. The organization quickly responded by creating the WELL Health-Safety Rating application and label for buildings.
The rating program focuses on 25 features for health and safety in buildings. Organizations can earn this designation by achieving compliance with 15 of the 25. This rating for buildings is flexible, scalable across varying building types, and easily applied across an extensive portfolio of properties.
The WELL Health-Safety areas of focus are:
Cleaning and Sanitization Procedures

Emergency Preparedness Programs

Health Service Resources

Air and Water Quality Management

Stakeholder Engagement and Communication

As our knowledge of SARS-CoV-2 and specifically COVID-19 evolves, so do the safety measures we can apply. The WELL Health-Safety Rating for facility operations provides tools and guidance for facility managers to capture how their onsite team prioritizes health and safety for people at their facilities. Many facility teams have already implemented enhanced cleaning procedures, preventive measures such as signage and communication to ensure masks and distancing occur, plus outside air and extended run operating procedures and suite-cleaning options to limit spread. The WELL Health-Safety Rating takes the process one step further by:
Documenting enhanced pandemic protocols into your emergency preparedness program 

Addressing a business continuity plan

Reviewing current health service resources and benefit program offerings

Transparency and communication with occupants and visitors on specific measures taken at this facility

Importance of Air and Water Quality Management
The most valuable WELL Rating features for property management teams are in the Air and Water Quality Management category. Indoor air quality and the health and safety of building occupants was already a critical pre-pandemic issue. Contaminants like mold spores and Legionella, particulate matter, organic and inorganic gasses — carbon monoxide and carbon dioxide, ozone, radon, and other pollutants — have traditionally been concerns for building occupants and facility managers. In 2020, indoor air quality has come front and center for buildings as CDC and ASHRAE have now stated COVID-19 viral particles are likely spread not only through droplets but also via aerosols, and our attention goes to how these particulates might be shared or limited within a building.
Reducing the exposure risks cannot be accomplished solely through the strategic placement of plexiglass barriers, social distancing, and surface sanitation. Optimizing ventilation systems requires a deeper understanding of how dangerous particulates interact in a building's air system. Through a combination of filtration analysis, air treatment, preventive maintenance, verification by testing, and ongoing system monitoring and management, building teams can create safer environments for all occupants.
Implement WELL Health-Safety Protocols
The goal of the WELL Health-Safety Rating is not to put assets and ownership into a capital plan but to set building owners on an operational path by creating processes for getting facilities on track. This path focuses on identifying feasible "next steps" with appropriate systems and monitoring:
Assess Ventilation

Assess and Maintain Air Treatment Systems

Develop a Legionella Management Plan

Monitor Air and Water Quality

Manage Mold and Moisture

The WELL program provides guidance to assess facilities for enhancing air treatment to optimize air quality to ensure the health of workers inside buildings. The WELL "Multiple Projects Pathway" allows building ownership and management teams and organizations with many offices across the U.S. and world to apply strategies throughout their operations to achieve the WELL Rating. The WELL label provides third-party verification so that all who enter the facility see that the building is tested and verified safe.
Schedule and Cost
The WELL Health-Safety Rating program is cost-effective, especially through the "multiple projects pathway" registration. The typical schedule is four to six weeks to document and eight to 10 business days (max. 25) for final GBCI review and award. As a practical way to convey to building occupants and visitors ownership's commitment to health and safety — especially during the COVID-19 pandemic — the WELL program is an excellent symbol of achievement. The building rating requires annual reporting to the GBCI and sharing information with people at the building, providing further reassurance to your building occupants a safe return to work.
Kathy Collins, AIA, WELL AP, (Kathy.Collins@NV5.com) is sustainability director at the international engineering company, NV5 Global, Inc. She has more than 20 years of experience working with asset and operations teams, optimizing high-performance buildings.
---
About IWBI
The International WELL Building Institute (IWBI) was formed in 2014 to make buildings well and healthy. IWBI's focus — based on input from hundreds of scientists and grounded in a body of medical research— was to develop a program that offers alternatives to building owners designed to improve the health of people who occupy their facilities.
The WELL Building Standard takes a holistic approach to health in the built environment addressing behavior, operations, and design. Incorporating standards from the CDC, WHO, OSHA, EPA, and ASTM, WELL is a performance-based system for measuring, certifying, and monitoring features of the built environment that impact human health and well-being.
Continue Reading:

WELL Health-Safety

How WELL Promotes Workplace Safety, Health, and Confidence

Understanding Advanced Filtration in Air Handling Units
---
---
---
Related Topics:
Comments