Getting Creative with Creating Outdoor Workspaces
Even without the availability of traditional outdoor space, you can still look to make improvements to bring nature to your lobby and other community spaces to give a "walk in the park" feel.
Not all office buildings have the amenities of a campus set in an idyllic natural setting. But almost all buildings have characteristics that can promote the idea of the "walk in the park" concept. Lobbies and entrances can be designed or transformed by simply admitting natural light and daylight and using furnishings and features to create both work areas and amenity areas. Lobbies are increasingly seen as community spaces, alternative solo work zones, and places of respite from the activity of an office itself. Like the outdoors, sensitive materials, appropriate plantings, and the integration of daylight can create a pleasant and active zone that changes throughout the day and even over the seasons.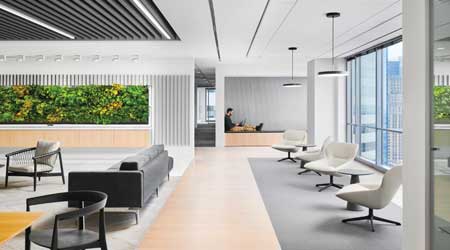 Credit: Peter Mollick
With the unfolding of the pandemic, functions that may have been strictly limited to a facility occupant's work area may find themselves increasingly controlled in the lobby or in other building common areas. Visitor reception and processing, security, food and drink offerings, small group settings, and solo work are all candidate functions for a building's common spaces. Integrating them in a more natural setting that can directly link to the outdoors or at least serve as a recall of the outdoors can help make the workplace a truly compelling place to be.
This connection between an effective indoors and an equally compelling and effective outdoors is not new. But the pandemic has magnified our attention to it and accelerated incorporating nature in a more integrated way into our workspaces. It's a highly sensitive and effective way to combine functionality, amenity, safety, and well-being into a truly human-centric and total workplace experience. And because nearly every office building in almost any setting has some opportunity for exploiting nature, whether with simple integration of planting and a great view in a downtown high-rise, or underutilized roof decks or parking roofs, we know that no effort will go unrewarded with better connections to the plazas and sidewalks at street level, a refurbished atrium or sky lobby, or common town center space in a tenant's space.
Larry Lander, principal, director of programming, PDR, has a 30+-year career in workplace design is the foundation for his deep knowledge of effective work environments. As a principal with PDR, he has led teams in the design of new large-scale buildings, development of campuses, learning environments and corporate relocations.
Continue Reading:

Sustainable Spaces

Smart Strategies for Creating Sustainable Outdoor Workspaces

Getting Creative with Creating Outdoor Workspaces
---
---
---
Related Topics:
Comments