Facility Managers Have More Green Building Ratings Systems Choices Than Ever
OTHER PARTS OF THIS ARTICLE
Pt. 1: This Page
Pt. 2:
LEED Offers Guidelines for Green Design, Construction and Operations
Pt. 3:
Green Globes Program Covers Wide Range of Buildings
Pt. 4:
Living Building Challenge is Advanced Green Building Standard
Pt. 5:
SERF Offers Affordable Alternative to Other Green Building Ratings Systems
Pt. 6:
BOMA 360 Includes Sustainability as Part of Focus On Efficient Operations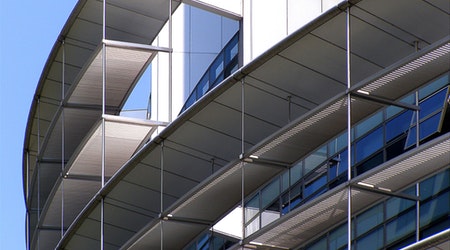 Facility managers looking at green building ratings systems have more high-performance options than ever. But that doesn't mean it's easy to pick the right one; while all of them have basic similarities, the differences can be significant when it comes time to make a decision.
The most well-known rating system is LEED, which has been around for more than a decade and has gradually evolved from a single standard that only applied to new buildings to a set of standards for everything from existing buildings to neighborhoods to homes.
Green Globes, started in Canada, expanded into the United States in 2004 when the Green Building Initiative (GBI) purchased the U.S. rights to the program.
Two other green building systems, both of which are younger, are beginning to take root as well. The Living Building Challenge began in 2006 as a program developed by the Cascadia Green Building Council, an affiliate of the USGBC. The fourth green rating system, sponsored by the Society of Environmentally Responsible Facilities (SERF), started in 2010. It currently includes certified facilities in 10 states.
To figure out which system will best meet their needs and the goals for their organization, facility managers have to take a close look at each of the options. In some cases, it may even make sense to pursue two or more certifications. Susan Hammer, property manager of a downtown Chicago high-rise owned by Prime Group Realty Trust, says having multiple certifications shows a commitment to sustainability in all areas, which is a strong selling point to potential tenants or employees.
"It shows that you believe sustainability is important and you want to be recognized any way you can," she says. Hammer's building, 330 North Wabash, holds LEED-Existing Buildings: Operations and Maintenance (LEED-EBOM) certification and SERF certification. It's also recognized under the BOMA 360 program, which is focused on overall building operations but does have energy efficiency requirements. (See Part 6).
While these green building rating systems have many things in common, there are key differences between them. Here's a look at what facility managers should know about each system.
The Future of Green
Sustainability is becoming a more and more common requirement for buildings as tenants, customers and occupants become more knowledgeable and concerned about environmental impact. Where someone works, shops or visits is part of their overall consideration of how they want to incorporate sustainability into their overall life, not just the buildings they frequent, says Robert Francis, vice president, university facilities, Drexel University.
"The person who comes to the university nowadays, or comes to work at the university, is less likely than their parents to have a driver's license; they're not really interested in living on cul-de-sacs next to golf courses," he says. "They want the urban experience, they see density and diversity as being good things, and all of those are very sustainable lifestyle choices."
And, looking forward, Francis points out that eventually, more ratings systems than just the Living Building Challenge will take looks into account.
"What will need to happen now is some kind of aesthetic consideration will start to get built in," Francis says. "Green is beautiful, sustainable is beautiful, well, what does that mean?"
And regardless of where each standard is now or where it is headed, the fact that they exist and are offering guidance is a plus, says Mark Frankel, technical director, New Buildings Institute, and board member, International Living Future Institute.
"Once you build a building, it's there for a very long time," he says. "So you have to be particularly careful in what you introduce to the built environment."
— Casey Laughman, managing editor
Continue Reading:

Cover Story: What Makes a Building Green?

Facility Managers Have More Green Building Ratings Systems Choices Than Ever

LEED Offers Guidelines for Green Design, Construction and Operations

Green Globes Program Covers Wide Range of Buildings

Living Building Challenge is Advanced Green Building Standard

SERF Offers Affordable Alternative to Other Green Building Ratings Systems

BOMA 360 Includes Sustainability as Part of Focus On Efficient Operations
---
---
---
Related Topics:
Comments