Creating Healthy Workplaces Means Promoting Happiness
Facility managers should move beyond occupant satisfaction to focus on the degree to which people actually enjoy being at their workplace.
OTHER PARTS OF THIS ARTICLE
Pt. 1: This Page
Pt. 2:
Happy and Healthy: How to Consider Occupant Happiness in Design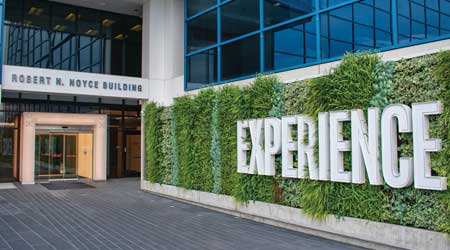 While the focus on occupant health and wellness has been steadily growing over the last two decades, it's never been more apparent in the ways that we've had to rethink how we design and operate our workplaces. We are living in times that represent the most substantive change ever seen. Globalization has promised us seamless connection. Technology has streamlined everything from how we process complex data to how we turn on the lights in our offices — as well as our living rooms. Artificial intelligence is poised to revamp entire industries.
Sustainability — economic, environmental, and social — is actually inclusive of health and wellness. And even one step further: Emotional wellbeing and happiness is an equally important part of the equation. By harnessing real data and applying happiness principles to culture coaching and building design, we can connect people and places through the creation of happy workplaces.
Making better connections
Recognizing what LEED has done for sustainability and what WELL has done for health and wellness, exploring how the buildings industry might measure happiness in the built environment for real estate properties around the world is important. And as a starting point, how might the industry increase happiness in the workplace — both for individuals and the companies they work for?
In 2018, a partnership between Delivering Happiness, DMG Mountain View and design firm CallisonRTKL built a global program called Happiness By Design dedicated to happiness in the built environment. Science proves that happiness is seriously good for business. According to Gallup, happiness in the workplace has contributed to a 400 percent drop in burnout, 37 percent less absenteeism, and 48 percent fewer safety accidents, while improving productivity by 21 percent and increasing employee retention by 44 percent.
Happiness By Design provides a roadmap to make better connections between buildings and the people who inhabit them. The methodology begins with the 3 P's — places, people, and pathways. It explores the impact places have on happiness. The built environment, with the application of the Happiness Ecosystem Index (HEI), can be leveraged to foster more connections and more meaning for people. From there, the methodology looks at the elements that make people truly happy. Everything we do has to result in more engaged and fulfilled people. What cultural initiatives unite people and place? This is the link and the glue between people. It highlights the processes that help align an organization and community in today's ever-increasing, fragmented society.
Finally, the pathway is what brings the two — places and people — together. It's easy to think about pathway in terms of something like a yoga room, a book club, or a fitness center. However, you can build the most beautiful, most desirable places, but people still won't use them for various reasons, generally tied to either the culture, or the difficulty of using that particular space. For example, if there's a yoga room in the building, but participants have to bring their own mats, or there is not an in-person instructor, or no easily accessible videos, people will rarely use the designated yoga room. The pathway is the instructor, the videos, the supplies — all the things that make the wellness amenity, the yoga room — work. Connecting a pathway between the people and the place is really the key to the Happiness By Design concept.
To make these connections, the Happiness By Design team created five Truths of Happiness — meaning, vitality, freedom, engagement, and delight. Meaning is derived when people connect to a higher purpose in a values-based workplace where they feel appreciated and are continually growing. Vitality recognizes that health and wellbeing are the foundation for life. With a baseline of vitality, people can be physically, emotionally, and mentally comfortable. Freedom is associated with autonomy, authenticity, and empowerment, especially where people feel a sense of control over their lives, both in and out of the workplace. Engagement provides meaningful connection and a deep sense of belonging where people feel included, valued and validated. And delight is associated with an active awareness of joy and amazement in the built environment and an organization's culture.
From the five Truths of Happiness, Happiness By Design established 60 sub-categories that are the important details supporting the Truths, such as mindfulness, safety, socialization and creativity. Each sub-category also has several WELL-corresponding merits that can be achieved through different measurable activities.
Continue Reading:

Green Building Report

Creating Healthy Workplaces Means Promoting Happiness

Happy and Healthy: How to Consider Occupant Happiness in Design
---
---
---
Related Topics:
Comments