Fred Hutchinson Cancer Research Center, Seattle
CATEGORY: Sustainability
Overview
The Fred Hutchinson Cancer Research Center has won a major victory in the crusade against energy inefficiency.
We turned an Energy Zero into an Energy Hero when we recently built out a 188,000 square foot laboratory building with an Energy Utilization Index (EUI) of 100. Normally, laboratory buildings have an EUI between 350 and 400. We also added a data center that uses less than half the energy of older generation data centers based on its Power Utilization Effectiveness (PUE) of 1.04.
Over 500 individuals, from all over the world, have toured this facility and virtually all came away not only amazed and impressed, but with actionable ideas they could take home. As one engineer wrote up in his follow-up report, "The secret to low PUE is out and new facilities will reach it."
As shown on Attachment 1, this laboratory building was 39% more energy efficient than the average of 9 similar facilities built in the Pacific Northwest during this time period, and 25% better than the next closest. As shown on Attachment 2, the PUE for this facility is less than half of older style data centers.
In December of 2010, Fred Hutch bought a 188,000 square foot building on a site adjacent to our campus that was about to go into foreclosure. While this building was an empty shell, it represented a tremendous and unique opportunity for Fred Hutch to expand its campus. Unfortunately, money, as always, was extremely tight and we were challenged to not only produce a cost efficient build out but also one that was economical to operate. While $4 per square foot was the energy cost norm for our laboratory buildings at that time, our goal was to cut it in half. We achieved that goal by cutting costs down to $1.70 per square foot for electricity, gas, and water. This is an extremely impressive number for a laboratory facility.
How did we do it? Energy Conservation has long been a focus at Fred Hutch. When your energy bills exceed $4 million annually you can't afford not to make it a focus, and Fred Hutch has. In fact, we've done over 190 energy conservations projects that are saving Fred Hutch a combined $2.5 million annually, and we've learned a lot of lessons along the way. We took those lessons, incorporated them into seven key strategies, and worked with our design teams to incorporate them into our new facility. Those strategies are:
Deliver the energy as efficiently as possible
Deliver the energy just in time.
Deliver just the right amount of energy.
Take advantage of excess energy.
Right-size the equipment.
Take advantage of the temperate climate in the Puget Sound area.
Educate the users, commission the building, and monitor the systems in perpetuity.
Utilizing these strategies and multiple design charrettes, the planners, operators, designers and contractors partnered to include over 30 different energy efficient products or ideas into this facility. These are included as Attachment 3.
There were numerous challenges along the way. For example, one design team didn't believe free outside air cooling would work for the data center. Another design team had never heard of air change rate setbacks for a laboratory. We had some contractors who were hesitant to put products they hadn't seen before into the project. To top it off, the construction schedule had been compacted into 9 months, which was also supposed to include the commissioning. By working with the design teams and builders we were able to overcome all issues. Much of this was done in design charrettes but we also introduced our data center designers to engineers at Microsoft who had already proven the concept of free outside air cooling. We also brought another design team on campus to show the current design team how to set up air change rate setbacks for laboratories.
We are extremely proud of our newest facility. It has won multiple awards including the Washington Green Energy Award and the Associated General Contractors award. We've hosted tours for over 500 people through the facility. We've given multiple presentations around the country on the facility, and the numbers prove that it's a winner. Paying only $1.70 per square foot for water and energy in a laboratory facility is unheard of. Beyond all that, what makes us most proud is that the occupants love it!
In-house Participants
(Not manufacturers, contractors, or service providers)
Bob Cowan
Jim Walker
Chris Lewis
Rod Olzendam
Gail Brooks
Steve Gallagher
Seth Bedwell
Bruce Cervene
Todd Coburn
Mark Hungerford
Bill Metteer
Jose Rivera
Sean McKillop
Serge Kats
Jim Mead
Rick Larson
Joe Claassen
Patrick McPhearson
Bill Zook
Jim Coons
Nhi Cun
Jay Phillippe
Edwin Schoneck
Seth Thornton
Leland Leasy
Harold deVries
Mike Wendt
Jon Shiozaki
Don Jones
Dennis Irgens
Aaron Quam
Brian Beaudry-Council
Melanie Zimmer
Les Lelek
Kenny Lind
Randy Colebank
Chris Wood
Justin Lamb
Gary Gores
Marty Givens
Pat Nolan
Robert Raymundo
Dave West
Manny Lai
Gary Poore
Jonathan Gilson
Additional Information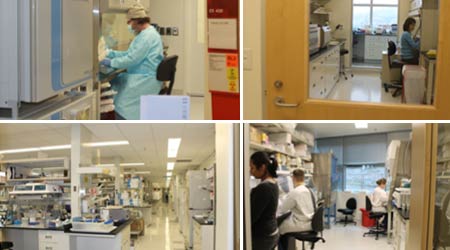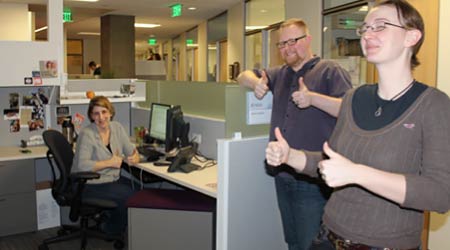 » View Energy Efficient Laboratory Buildings Chart (PDF)
» View PUE on May 10, 2016 at 11am (PDF)