« Back to Facilities Management Flooring Category Home
Flooring: Specification, Qualification, and Testing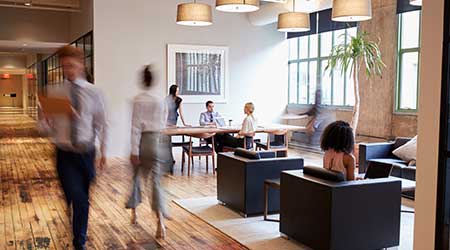 June 21, 2019 - Flooring
By Lewis Migliore
Flooring product and installation failure are common occurrences, as are environmental conditions compromising flooring materials. Although the vast majority of floorcovering materials get installed without incident, the small percentage that fail can have a devastating effect on a project. The costs of product and installation failure can reach into the millions of dollars on one job. Not the kind of problem you want to have.
As far as the product being able to perform — that's something that can be controlled but rarely is. Specifying flooring, regardless of what type, is generally the job of the designer or architect and a manufacturer's sales representative. The decision is most often based on aesthetics and not necessarily how well the product will actually perform. The best way to prevent a complaint, claim, or flooring problem is to make sure the right product is in the right place and it performs as expected, is capable of being maintained and will deliver the performance, appearance retention, and longevity expected.
Click here to download the report.
The Commercial Flooring Report is provided by Lewis Migliore, president of LGM and Associates, which offers technical flooring services, including help or guidance with a new flooring project or a failure on an existing floor. Contact him at lgmtcs@optilink.us.
posted on 6/21/2019