« Back to Facilities Management Flooring Category Home
Carpet, the Not-So-Forgotten Flooring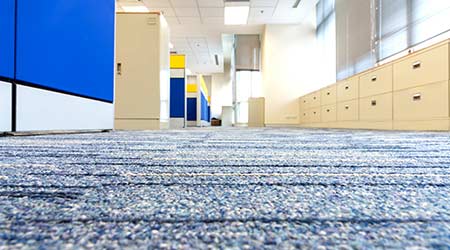 July 19, 2019 - Flooring
By Lewis Migliore
No flooring material says style, fashion, comfort, and warmth like carpet. Tufted or woven carpet today can be made to look like anything, and designing a pattern is only limited by one's imagination. This applies to broadloom and carpet tile although broadloom would be the undisputed leader in unlimited pattern and design. Carpet tile styling, which was certainly on display at Neocon this year, is close but when you have to put pieces of modular flooring down the design restrictions are naturally going to be limited especially for expansive and unrepeatable patterns. Hard surface flooring is never soft, warm, and comfortable underfoot and it can never compete with carpet in this arena.
Click here to download the report.
Lewis Migliore is president of LGM and Associates, which offers technical flooring services, including help or guidance with a new flooring project or a failure on an existing floor. Contact him at lgmtcs@optilink.us.
posted on 7/19/2019