Knowing the Characteristics of Flooring Products
Last part of a 3-part article describing office building anatomy and the challenge of selecting and maintaining its flooring
OTHER PARTS OF THIS ARTICLE
Pt. 1:
Understanding Flooring Options in Entry, Common-Space Areas
Pt. 2:
Understanding Flooring Options in Private and Executive Space, Break and Lunch Rooms
Pt. 3: This Page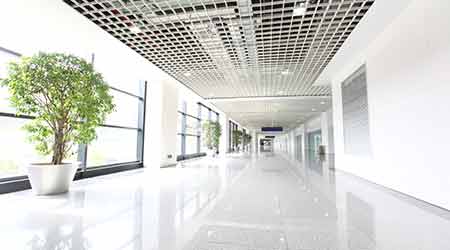 Human beings spend 93 percent of their time indoors, so the space they work in must be conducive to their work and mental well-being. The choice of the flooring in workspaces can have a major impact on how occupants feel about what they do and where they do it relative to work. Bringing nature indoors with color and style is an important consideration, and there are so many flooring options in the areas of texture, size, shape, and pattern. So what are some of the characteristics you should be looking for in textile and hard surface flooring products?
Carpet tile today ranges from 18- to 36-inch squares, from planks and hexagons to rectangles and diamonds, and anything in between. Carpet tile can also have various textures designed to make it look like a scene from nature, which allows the use of carpet tiles in areas other than just open office space or corridor applications. Carpet tiles are the most highly engineered textile flooring material the industry produces and they come with varying attributes, such as hard or cushion backings, and a multitude of design patterns and colors for unlimited looks in a space. In broadloom carpet, today's tufting machines are nearly limitless in the patterns they can achieve, and the industry is still discovering what the new technology is capable of. The most important thing to understand with any carpet is to select the proper color and construction so the product does not lose its appearance prematurely.
The most common flooring materials used in office buildings, besides carpet tile and carpet, are the hard surface materials. Hard surface materials in today's commercial market are dominated by luxury vinyl tile and plank, ceramic, and wood, but the list of available options also includes marble, granite, polished concrete, rubber, various wood materials, and terrazzo.
When considering hard surface flooring options, be aware of the acoustical considerations. Wood is nice, but it can be a disappointment if it dents, scratches, expands, or contracts, especially as the HVAC system is cycled, and offers no acoustical muffling. It may be best used in smaller areas, in an executive space, or as a feature along with another product. The wiser choice would be porcelain, since it can be made to look like wood without any of the dimensional stability or performance issues.
One of the best sources for using the correct materials is the professional flooring contractors who work with and install all types of flooring in all types of buildings. By the nature of their profession, they know which flooring materials will and won't work for you.
And speaking of flooring contractors, unless the flooring material is installed properly and according to manufacturer's guidelines and industry standards, you can forget anything else about it.
Lewis Migliore is president of LGM and Associates, which offers technical flooring services, including help or guidance with a new flooring project or a failure on an existing floor. He has been associated with the floor-covering industry for more than 40 years. Contact him at lgmtcs@optilink.us.
Continue Reading:

Flooring

Understanding Flooring Options in Entry, Common-Space Areas

Understanding Flooring Options in Private and Executive Space, Break and Lunch Rooms

Knowing the Characteristics of Flooring Products
---
---
---
Related Topics:
Comments