Carefully Selected Floors Raise Issues of Materials Use
First of a 4-part article describing four steps to a sustainable floor
OTHER PARTS OF THIS ARTICLE
Pt. 1: This Page
Pt. 2:
Flooring Decisions Involve Issues of Sustainable Content, Chemical Exposure
Pt. 3:
'Green' Flooring Decisions Involve Checking for Third-Party Certifications
Pt. 4:
Green Seal, Floorscore Among 'Green' Flooring Certifications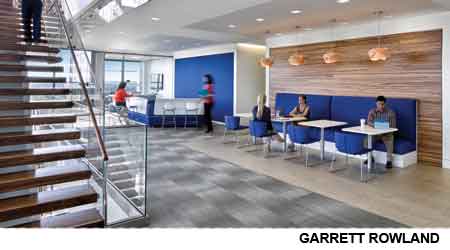 One primary goal in assessing the "green-ness" of building products is determining their impact on occupant health, as well as the health of the people who manufacture, install, and maintain the products. Another is evaluating the environmental impact from the moment the materials are sourced or developed, through manufacturing, distribution, and application, until the product reaches the end of its current life. The flooring industry has been a leader in improving the sustainability of its product offerings, creating ways to reclaim and reuse materials at end of life, and also in adopting more transparent product declarations. As a result, facility managers are left with a vast assortment of possibilities in the realm of flooring that are good for the environment as well as facility occupants. People and planet alike can benefit from carefully selected floors. To find the flooring product that best suits a project's needs while also reducing impact on human health and the environment, facility managers can focus their research on several areas, such as materials use, sustainable content, chemical exposure, and third-party certifications.
STEP 1: MATERIALS USE
One way to reduce a building's impact on the environment is to follow the "reduce, reuse, recycle" mantra and use fewer materials, says Cindy Davis, director of research and information center and LEED certification with Callison Architecture. In some locations, that may mean opting for, say, polished concrete rather than a flooring system, she says.
Along those lines, durability should be a key consideration when a flooring system is installed. "It's equal to any other green strategy," because it also minimizes the amount of materials used over time, Davis says.
Similarly, carpet tile can minimize the use of materials by enabling easy replacement of just the areas that receive the greatest use, says Anica Landreneau, director of sustainable consulting with HOK.
What a facility will do with a flooring product once it has reached end of useful life also enters into the materials-use considerations. Ideally, any materials will find a second life after they've been used once. For instance, a number of carpet manufacturers will take carpet that's reached the end of its life, separate the carpet fibers from their backing, and recycle each component into carpet or other materials, Landreneau says. Some carpet materials can be recycled multiple times. More than 500 million pounds of carpet, or 14 percent of the 3.7 billion pounds of total discarded carpet, were diverted from landfills in 2013, according to the non-profit organization Carpet America Recovery Effort (CARE).
Continue Reading:

Flooring

Carefully Selected Floors Raise Issues of Materials Use

Flooring Decisions Involve Issues of Sustainable Content, Chemical Exposure

'Green' Flooring Decisions Involve Checking for Third-Party Certifications

Green Seal, Floorscore Among 'Green' Flooring Certifications
---
---
---
Related Topics:
Comments