Ensuring Damper Performance
Comprehensive inspection, testing and maintenance of dampers is essential for safety and system performance.
OTHER PARTS OF THIS ARTICLE
Pt. 1: This Page
Pt. 2:
How To Properly Inspect and Test Fire Dampers
Pt. 3:
Code Considerations: Specifying Effective Fire Dampers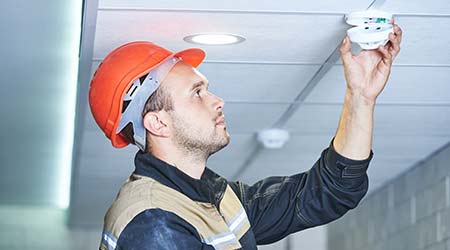 Dampers are crucial to prevent the spread of fire and smoke in institutional and commercial facilities, so it is critical that they are designed, installed, and maintained according to applicable building, fire, and life safety codes.
The challenge for maintenance and engineering managers is to understand the gamut of issues related to damper installation and performance, including inspection, testing, and maintenance. Beyond these issues, managers need to be familiar with regulatory and standards compliance related to NFPA 80: Standard for Fire Doors and Other Opening Protectives, NFPA 105: Standard for Smoke Door Assemblies and Other Opening Protectives, NFPA 72: National Fire Alarm Code, and manufacturer requirements.
Downlow on dampers
Most multi-story facility HVAC systems generally include fire dampers, smoke dampers, or combination fire/smoke dampers, which serve a dual function against both threats. There are two main types of fire dampers: dynamic and static.
Dynamic fire dampers are UL tested to close against system air pressure and velocity. Static fire dampers also are UL tested but not listed to close against system air pressure and velocity. Ceiling radiation dampers are used in fire-rated floor-ceiling or roof-ceiling assemblies. Smoke dampers are UL tested to restrict the movement of smoke. As the name indicates, combination fire/smoke dampers can perform the functions of both a fire damper and a smoke damper.
In a fire damper, the fusible link — a heat-detection device — controls the operation of the damper curtain blades. The fusible link opens in response to heat and activates the damper components, effectively preventing the spread of fire and the movement of air. While static fire dampers rely on gravity to close the curtain blades, dynamic fire dampers use a spring to close them. In cases where a static fire damper is located horizontally, a closure spring pulls the curtain blades closed. Smoke dampers typically are activated by a duct detector or spot-type smoke detector that senses smoke.
Keeping dampers working
Properly maintaining dampers is imperative to its successful operation in the event of an emergency. Regular maintenance for fire, smoke, and combination fire/smoke dampers must include these procedures:
• Verify proper access to test and maintain the damper.
• Check the actuator and tighten the linkage if required.
• Clean the damper blades as needed.
• Consult manufacturer as needed.
While new damper installations require clear and unobstructed access under NFPA 80 or NFPA 105, it is just as important to make sure technicians have access to existing dampers in order to perform inspection, testing, and maintenance. During routine maintenance, technicians also must make sure all exposed and moving parts are dry-lubricated as directed by the manufacturer.
If any change in airflow or noise occurs in the duct system — building occupants often notice such changes first — technicians need to inspect any fire and smoke dampers located in the system immediately and repair inoperable dampers as soon as possible. They also should subsequently test any dampers that had been repaired previously to verify proper operation, with documentation included.
Continue Reading:

Fire & Life Safety

Ensuring Damper Performance

How To Properly Inspect and Test Fire Dampers

Code Considerations: Specifying Effective Fire Dampers
---
---
---
Related Topics:
Comments