Facility Manager Cost Saving/Best Practice Quick Reads RSS Feed
Old Buildings Challenge Cities
January 4, 2019 - Contact FacilitiesNet Editorial Staff »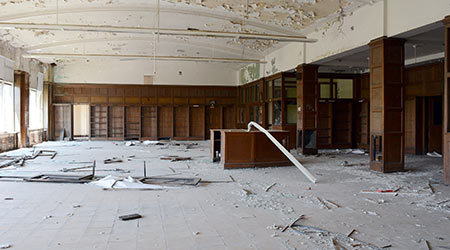 Just as with people, the twilight years of institutional and commercial buildings can be challenging. Some buildings are simply torn down, others are vacated and linger for a while in disuse, and a select few — often historic buildings — find new life with new owners and new purposes. Developments in two regions of the country demonstrate the issues facing organizations and municipalities.

In Las Vegas, the city's fire department has responded to several recent fires where squatters are suspected as the cause, but a search of property records often show times its taxpayers who are paying to clean up and secure old buildings. It is a perennial problem especially in the heart of downtown Las Vegas, according to KTNV.

"The one we had downtown off Bridger, we've been to that building at least three or four times," says Tim Szymanski with Las Vegas Fire and Rescue. "A lot of people call us and say, why aren't you doing this or why aren't you doing that. As far as the fire department is concerned, we go there, and we put the fire out, and we usually secure the building. This becomes a code enforcement issue."

In Tupelo, Miss., a growing number of developers and businesses are restoring historic properties for commercial use, turning old structures into money makers, according to The Daily Journal. Historic preservation is a growing trend among Mississippi developers. In the initial years of historic tax credits in the mid-2000s, the highest amount spent statewide on historic renovation projects was $6.7 million. Those numbers have grown since 2010, when $78.4 million was spent.

"It's hard work, but it gives you a lot of pride when you can rebuild something and recapture that heritage, when you walk into these apartments they are going to have high ceilings, skylights, hard flooring; beautiful features that you just cannot get anymore," says Chris Chain, a developer who has renovated 150 buildings across Mississippi over the last 30 years.
Dan Hounsell is editor-in-chief of Facility Maintenance Decisions, and Facilitiesnet.com.
---
Comments