Facility Manager Cost Saving/Best Practice Quick Reads RSS Feed
Do You Have the Right Skills for the Future of FM?
May 7, 2021 - Contact FacilitiesNet Editorial Staff »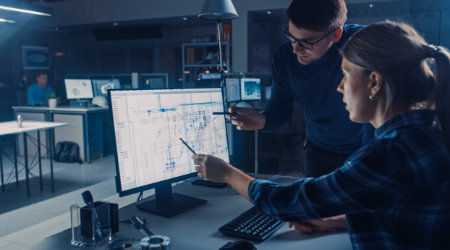 The facility management landscape has changed considerably from where it was just a year ago. With the workplace functioning in a new way, facility management organizations must adjust to new corporate directions, limited interactions with internal customers, and diverse requirements for staff skills sets.
In an fnPrime webcast on May 12, industry expert Stormy Friday will discuss the "Importance of Training and Recognizing Your Team." Friday recognizes that now, more than ever, it is important for facility managers to determine what types of staff training they will need to provide in the future, and how they can motivate and reward their teams that continue to work remotely or in limited contact with one another.
fnPrime: Finding talent in facilities management always seems to be a challenge. Why is the current environment proving even more difficult to find appropriate job candidates?
Friday: According to the Conference Board, only 19 percent of facility management workers are under the age of 40 and in the aftermath of the pandemic, current workers who can retire have or will retire in greater numbers. Since the average age of FM workers is around 51, the pool of prospective talent is not growing at the rate we need to maintain staffing levels. Finding talent remains one of the biggest concerns for both senior executives and HR organizations.
fnPrime: Have facility managers been able to identify any gaps in skills and do they believe it is more difficult with staff that have been working remotely?
Friday: According to recent research conducted by ProFMI which I will share with our audience, not only do facility managers say they want/need more training, but managers see a tremendous gap in facility management-related skills. In some instances, working remotely has allowed managers to identify skills gaps more readily than if staff were working in the traditional office setting.
fnPrime: Is there a benefit to FM organization productivity by spending time to recognize facility management staff?
Friday: There is a direct correlation between staff recognition and the level of productivity for the organization. Having well developed strategies for showcasing team and individual success is an important component of the health and well-being of an FM organization.
To learn more about the need for updated training methods and the value of staff recognition, attend the upcoming webcast on May 12 at 3 p.m. EST. Registration is free to fnPrime members. If you're interested in attending but not currently a member, sign up for either $199 a year or $19.99 a month.
---
Comments