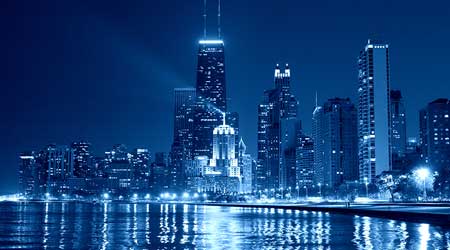 Chicago Buildings to Light Up to Support Essential Workers
There are lots of ways facilities managers can use their buildings and resources to help support coronavirus pandemic relief efforts: Turning facilities into alternate care facilities, donating food from the cafeteria that may have gone bad to food banks, and offering technological support in any way possible to newly remote workers struggling to find their stride, just to name a few.
But doing what they can to keep up morale may be just as important as any of those. Starting this weekend, as many as 19 Chicago buildings, including iconic structures of Chicago's skyline like the John Hancock Center and the Willis Tower, will light up in support of essential workers, first responders, and front-line healthcare workers, according to the Chicago Tribune.
The initiative is the latest in BOMA/Chicago's Illuminate Chicago Lighting Program, an initiative that helps Chicago buildings coordinate to show support for charitable causes and encourage "greater consistency in lighting across downtown Chicago."
The Light It Up Blue for Essential Workers campaign, which will run through May 1, is one of the first times BOMA/Chicago itself has requested and coordinated the effort, meant to recognize "essential workers, including janitorial, engineering, security, property management personnel and many more." First responders will then be recognized as buildings light up red from May 2 through May 5.
This post was submitted by Greg Zimmerman, executive editor, Building Operating Management and FacilitiesNet.com.
---