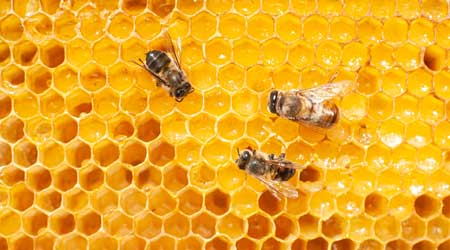 Bees Move Into Vacant Tech Firm's Space
After a California software company sent all its employees home to work remotely during the pandemic, 20,000 bees moved into the empty facility, according to an article in Inc.
A bee extraction firm which was hired to safely relocate the colony to a more suitable location estimated that the bees had been in the Santa Barbara facility for around six months. They entered the facility through a hole in the exterior brick facade and established a hive between the second and third floors.
The bees were first noticed in late April, when an Invoca employee who periodically checked in on their leased space found a few dead bees in a rear hallway. She chalked it up to a recent storm, but as more dead bees accumulated over the months, she tried to find the source, to no avail. By January, the pros were called in.
The bees were removed by cutting a hole in the bathroom ceiling on the second floor, with the specialist crawling into the space between the floors to remove the colony, as well as 10 gallons of honey, wax, and pollen.
Naomi Millán is editor of Building Operating Management.
---