You Might Like
On FacilitiesNet
With IoT, IP Addressable Components Are Key to Data Extraction
Last of a 2-part article on knowing your current systems and IoT's basic building blocks
OTHER PARTS OF THIS ARTICLE
Pt. 1:
Building IoT Builds on Systems, Tools, Already in Use
Pt. 2: This Page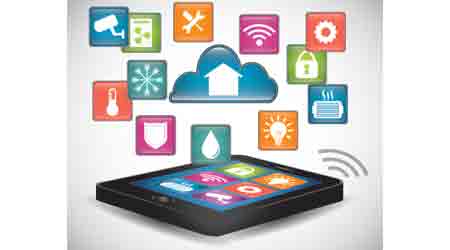 But true Building IoT will require IP addressable components, which, Grush says, will be the true key to unlocking data extraction from any system. "If you have a well-planned, well-administered IP network, it can be leveraged to support various Building IoT technologies, devices, and systems in a secure, high-performance environment," he says. "This makes all system information readily accessible to any or all applications being used to manage the facility."
This begins to get at what DuRuz calls the process of "automated integration" and what Grush calls "unfettered device interoperability" — that is, similar to his OBD analogy, you'll be able to plug in any web appliance and extract data. "Communication protocol or the kind of data wouldn't matter," he says. "Then you can get homogenous data and be presented it in your browser, and structure reports for finance."
DuRuz says one of the challenges with Building IoT today, though, is that each IoT solution is practically custom. But in the future, he sees web appliances being able to unlock any type of digital data in a building. "This unlocked data is continuously pushed to cloud storage for automated analytics, and users receive email alerts for fault detection, air quality, energy use, etc.," he says. Not relying on internal hardware resources is one way you can maintain your Building IoT system's flexibility, he says. "The rapidly dropping cost of cloud storage and wider availability of automated analytics tools can make your system future proof."
Overcoming Technology Challenges to Building IoT
Mike Grush, a technology solutions engineer with McKinstry, says that overcoming challenges in deploying the Building Internet of Things (IoT) means understanding how devices can be connected (including knowledge of protocols), the capabilities and quirks of various products and technologies, and network implications and requirements to facilitate various integration schemes. Here are some to-dos for facility mangers who want to be successful deploying Building IoT applications.
1. Everyone wants the benefits of modern building systems. To get them, facility managers, and the organizations they work for, have to be willing to invest the time and money to design, specify, purchase, operate, and maintain these systems properly.
2. Cyber-security concerns have to be balanced against legitimate needs for accessibility to the system.
3. Facility managers have to look closely at vendor offerings to avoid being painted into a corner or trapped under a false claim of "openness." At this point, because of limitations on what is available in the marketplace or installed in buildings, facility managers often have to use integration drivers and gateways to provide interoperability rather than using a single open protocol.
— Greg Zimmerman
Continue Reading:

Building Internet of Things

Building IoT Builds on Systems, Tools, Already in Use

With IoT, IP Addressable Components Are Key to Data Extraction
---
---
---
Related Topics:
Comments