What The Hospitality Industry Can Teach Facility Managers

I've been traveling quite a bit lately (it is, after all, trade show season), and my trips have prompted some interesting discussions among friends and co-workers as we invariably compare travel experiences. Most recently we talked about our travel rituals, from packing (carry-on or checked bags?) to flying (aisle or window?) to lodging. Which prompts the question: What's the first thing you check when you get into your hotel room? Some people go right to the window and take in the view (or lack thereof, depending on what floor they're on). Others grab the TV remote to determine how many ESPN channels are available. (I think I once counted eight; my husband was downright envious.)
My ritual? One formed by years of working in the facility management field: I set my luggage on the bathroom's tile floor and head to the bed for a thorough bug check. (I'm currently batting zero on bedbug discoveries, a streak I intend to maintain for the long haul.) Next, I go to the thermostat and reset it to a higher, energy-efficient number. Finally, I take a look at the room's layout: Is it maneuverable? Are desks/dressers/closets easy to access and use? And last, but of utmost importance, what's the evacuation route? And after that, I unpack and call my hotel room home.
With Las Vegas accounting for 3 percent of all U.S. hotel rooms, we think that there's no better place than the NFMT Vegas Conference & Expo to discuss just how hospitality facilities can demonstrate best practices for all buildings in sustainability, energy efficiency, occupant safety and ADA compliance.
For the first time, this year's conference will feature a track dedicated to hospitality and provide perspectives from some of the market's most knowledgeable sources. Bob Holesko, vice president of HEI Hotels and Resorts (owner of 42 hotels totaling more than 12,000 guest rooms and 10 million square feet) will be addressing "Energy Efficiency Initiatives for Hotels" on Tuesday, Oct. 2. It's something he's more than familiar with: In the past three years, Holesko and his team of 42 chief engineers (one for each hotel) have knocked $5 million in operational costs off the annual budget, and they won the 2012 U.S. EPA's Energy Star Sustained Excellence Award.
There's also a must-attend presentation on bedbugs, delivered by John Cooksey of McCall Service, who will offer guidelines on identifying and removing bedbugs.
Joan Stein, president of Accessibility Design Associates, will discuss the impact of the ADA Final Regs on the hospitality industry. Known for her practical, thorough and often humorous discussions on this topic, Joan will clarify requirements now in place, addressing some hospitality-specific concerns such as lifts at pools and spas (which are now under a new deadline of Jan. 31, 2013, primarily to allow time for clarification of several key issues). The Q-and-A sessions that often crop up after Joan steps down from the podium are among the most informative portions of our program.
I'm looking forward to NFMT Vegas (which takes place at the fabulous Mirage, by the way) for a chance to see what's happening in hospitality, not just because I've come to appreciate hotel living (hello maid service), but because these facilities can highlight some key innovations and solutions for the entire facility management marketplace.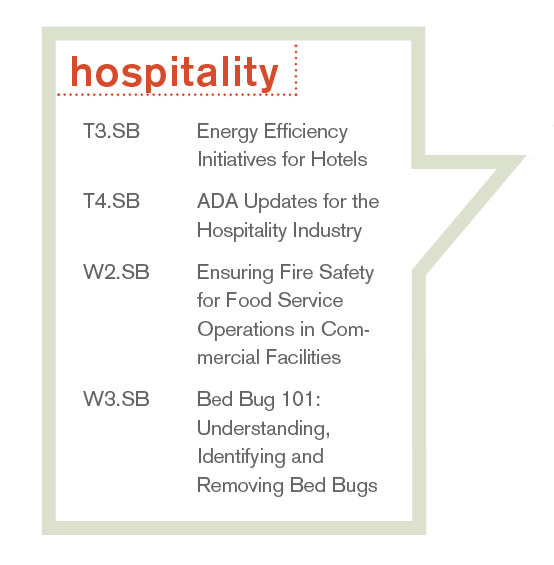 ---
---
Comments