You Might Like
On FacilitiesNet
PNC Tower Uses Cutting Edge Building Systems but Runs on the Basics
First of a 3-part article describing how 3 complex facilities are putting Building Internet of Things to work
OTHER PARTS OF THIS ARTICLE
Pt. 1: This Page
Pt. 2:
Cleveland Clinic Happily Takes IoT Connectivity to Extremes
Pt. 3:
Data Plays Important Role at U.S. Institute of Peace Building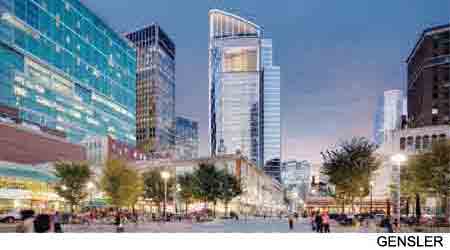 When The PNC Financial Services Group began planning The Tower at PNC Plaza, it envisioned a headquarters building as hardworking as Pittsburgh's reputation. That meant incorporating hardworking building systems, some of them cutting edge, and designing a structure that is complex, but still runs on the basics. Gary Saulson, director of corporate real estate, thinks it may be the most complicated building anywhere. Still, as Jeremy Snyder, associate principal, BuroHappold Engineering, puts it, "The bits and pieces are pretty typical; we're still talking typical-sized motors, and valves and actuators and dampers — that's pretty much how our building is controlled. We're just doing it in a unique and energy-efficient way."
The 33-story, $400 million structure, scheduled to open Oct. 1, is being billed as the greenest skyscraper in the world and is expected to exceed LEED Platinum certification. (PNC, one of the leading financial organizations in the country, has 258 LEED-certified projects.)
The building's systems reflect much of the Building Internet of Thing's emphasis on connectivity, data-sharing, sensors, and control. Among the elements tied into its BAS are energy recovery wheels to recover heat energy from the ventilation system, chilled beams to help cool the building, a system that treats and re-uses water for flushing toilets, and a lighting system that reads the sun to determine how much electric light to provide to each floor. The tower is transparent, with the ability to daylight more than 90 percent of its office floors.
"We have a window system that during certain portions of the year will open and close to naturally ventilate the building. The BMS controls these motorized windows based on sensors that read temperature, humidity, and pollution levels," Snyder says. Additionally, these windows open in the summer to remove heat and close in the winter to retain heat.
"The curtain wall is a double-skin façade, and within that double skin we have automated blinds that block out the direct solar gain and reduce glare," says Snyder. "This reduces our energy consumption and makes for a healthy working environment."
The star of the show, arguably, is the natural ventilation system, which is designed to operate without the aid of fans for up to 42 percent of working hours. The tower, Snyder says, is currently the tallest naturally ventilated building in the United States. At its top is a solar chimney 90 feet high and tilted at about 25 degrees. "Basically it's dark corrugated concrete to maximize surface area, with a glass top that collects heat," Snyder says. "When we have enough heat at the top of the building we open up the windows on each of the office floors. The height and heat of the chimney create a stack (effect) and we're able to draw air through each of our office floors naturally without the use of fans."
Saulson says it's like standing next to a stopped elevator when you can hear the sound of warm air rising. "So the warm air goes out of the solar chimney by itself in the hot months, and in the cold months we actually are heating up air in the solar chimney and using fans to bring the warm air back into the building," he says. The BAS touches virtually every independent system network in the building, gathers information, and passes that information to all other system networks to ensure coordinated operation of the entire facility, says Paul Fusan, PNC's critical systems expert. For example, the fire alarm network is tied into the BAS network, which in turn is connected to the water treatment system, lighting, solar, security, and trouble-alarm notification networks. As the building's sophisticated design evolved, a great deal of meticulous testing was done to identify the potential tweaks that would be needed before all 33 stories went up. Integrated components were tested in a 1,200-square-foot mock-up. Planners regularly crunched data and sequences in long, intense sessions called, appropriately enough, "root canal meetings."
Continue Reading:

3) COVER PACKAGE: Building Internet of Things

PNC Tower Uses Cutting Edge Building Systems but Runs on the Basics

Cleveland Clinic Happily Takes IoT Connectivity to Extremes

Data Plays Important Role at U.S. Institute of Peace Building
---
---
---
Related Topics:
Comments