Oct 2018 Supplier Spotlight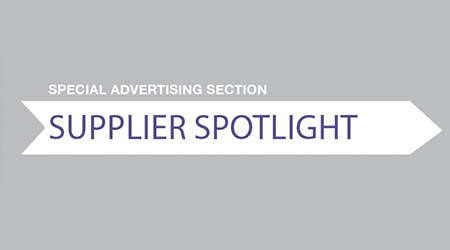 Continuous Hinge
SELECT Hinges Electrified doors are notorious for failing. When they do, they're difficult to repair. Not any more with SELECT's Accessible Through-Wire (ATW) concealed geared continuous hinge. In less than five minutes you can remove the cover plate and fix the problem. Because of ATW's robust design, those repairs are rarely needed.

Feminine Product Vendor
Bobrick Washroom Equipment Many states have passed legislation requiring public facilities to provide free feminine products. Bobrick has responded by extending its feminine product vendor offering with new token-vend options. Bobrick's unmatched selection includes fully ADA-compliant napkin/tampon vendors.

Decorative Acoustic Ceiling
Armstrong Ceiling Solutions WHAT IF you could break free of material constraints and let your space reflect your limitless imagination? WHAT IF you could design a ceiling in any color you like? WHAT IF you could bring your vision to life in just a few weeks? There's no more "what if." Now, there are DESIGNFlex Ceiling Systems. So, go ahead and reinvent your ceiling.

VRF Mini-Split
Fujitsu General Fujitsu General America's Wi‐Fi enabled, wall‐mounted ductless split heating and cooling systems have efficiencies up to 33‐SEER. The 9,000 (9RLS3Y), 12,000 (12RLS3Y) and 15,000 (15RLS3Y) BTU models offer HSPF ratings of up to 14.2, making the entire line ENERGY STAR rated. All Wi‐Fi enabled systems offer remote operation using a smartphone or tablet as the remote control.

Lavatory
Bradley Due to its completely touchless design, Bradley's all-in-one WashBar reduces germy touchpoints in restrooms, while its basin — made of either Evero Natural Quartz or Terreon Solid Surface materials — does not support microbial growth. Both Evero and Terreon are non-porous materials, and come as cast formed one-piece units featuring seamless construction made without cracks or crevices that harbor germs and dirt.
---
---
---
Related Topics:
Comments