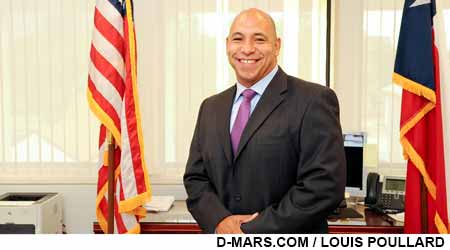 Minnix's Facilities Role Akin to Air Traffic Controller's
Part 4 of a 5-part article profiling the leadership and style of Scott Minnix, Houston's director of General Services Department
Minnix likes a good analogy, and he likens his role of director of the General Services Department to an air traffic controller's, "and there's always planes overhead."
On a particular Monday, coming from his weekly strategy meeting with his core team to debrief them on the new mayor-elect, Minnix is mid-conversation when he has to break away to address an emergency at one of his facilities. In five minutes, he's back to the conversation, having triaged the situation and alerted the mayor's office. When asked if another day might be calmer for the conversation, his poised demeanor briefly cracks. "Every day is crazy!" he says.
Minnix knows he can't do it all alone, nor does he aspire to. Another analogy he offers about his position is that he's the orchestra conductor. His focus on collaboration is a hallmark of his leadership strategy, say his team members. "One of the first and best things he brought is collaborative teamwork to the department," says Humberto Bautista, assistant director, strategic planning and assets. In addition to starting weekly Monday strategy meetings, Minnix also used best practices to reorganize the General Services Department's main offices to be more collaborative, creating smaller individual workstations with lower partition heights and greater communal collaborative space. "We're looking city wide at how we can use the offices more efficiently to change the workplace and how we work together throughout the city," says Bautista.
Minnix says he works on developing his team members' mastery of their jobs as an intrinsic aspect of good leadership. Coming up through the ranks, most facility managers know how to do their employees' jobs. "My job is not to do their job," Minnix says. "The leader can not go play an instrument. When the leader leaves to go play the cello, there's nobody up front leading."
By developing mastery in his team, Minnix says he can give them autonomy, and he keeps them accountable for that autonomy. As part of the weekly meeting, Minnix asks his staff what they did in the previous week to get better. He expects there will be a concrete and affirmative response, and is prepared to answer for himself as well.
The one thing Minnix definitely keeps himself and his department accountable to is the public service component of the job. "When my guys connect to how important it is that the rollup door opens at a fire station, not because it's an operating door and should work but because they're trying to save lives, my guys work differently," Minnix says. "Because they're connected to this something that's greater than a wrench and electrical wires. I think our role as leaders has to be to be able to do that whole process. You have to be in tune to your folks. You have to help them develop this mastery. You have to connect them to autonomy and accountability. And you have to connect them to their passion and purpose."
Continue Reading:

Profile

Houston's Scott Minnix Made Facility Assessment His First Priority

Minnix Helped Secure Key Maintenance Funds

A City Facility Director on Understanding Influence of Politics, Diverse Constituencies

Minnix's Facilities Role Akin to Air Traffic Controller's

For Minnix, Municipal Real Estate Portfolios Demand Different Paradigm
---
---
---
Related Topics: