Leak Detection Technology: Proper Installation, Maintenance a Must
As leak detection becomes more common and sensors and other technology get cheaper, the focus must increasingly be on proper installation and maintenance.
OTHER PARTS OF THIS ARTICLE
Pt. 1:
Understanding New Leak Detection Technology
Pt. 2: This Page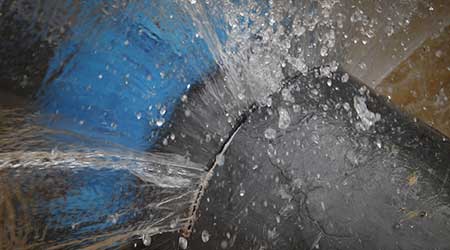 Not only is it important that a water leak detection system meet applicable standards, it's also important that it is installed, tested, and maintained properly. While minimal, some maintenance is required for this technology. Obviously, anything that is battery-operated will need to be checked on a regular basis to ensure it is still operating. Manufacturers will typically provide guidance on when to replace the batteries. Many systems also incorporate battery-monitoring features to alert you to a low battery condition.
For wired systems, if the wiring is not supervised, circuits should be examined to ensure they are intact and not damaged. One common problem that has been experienced with certain contact-type sensors is corrosion. Because sensors are often placed on cement floors, the moisture from the floor causes corrosion to the contacts and may impair its ability to operate. Some devices have gold-plated or corrosion-resistant contacts to alleviate this problem.
Systems should be fully tested after being installed and then on a regular basis to ensure proper operation. There always a chance that a device has been moved, disconnected, or damaged, so regular testing is always a good practice. Solutions with self-diagnostic and supervision features can help with all of this and provide further peace of mind that a system is fully operational and that a facility is being protected. Unfortunately, there are very few of the "set it and forget it" type systems out there. For those systems that connect to the internet, it's also likely there will be the need for routine software updates to mitigate cybersecurity risks.
Emerging trends
This is an exciting time for water leak detection technology. Sensors are becoming smaller and cheaper. The internet has spurred the growth of many convenient mobile applications to provide remote notification. However, this expansion in connectivity does come with some risks, namely cybersecurity. Care should be taken to look for systems that have undergone a cybersecurity assessment, and be mindful to ensure timely installation of any software updates and to change default passwords upon initial installation.
New use cases for these systems are emerging. For instance, water usage monitoring is becoming more common and providing the data necessary to address anomalies such as running toilets. Consider that enforcement of drought ordinances may someday become commonplace, giving a municipality the ability to monitor water usage and levy fines for violations.
Water usage on a construction site can sometimes be a problem. Leaking pipes or vandalism could wreak havoc on a construction project. There's the cost of the water that is wasted and then anything that is destroyed by the water. Imagine the damage that could result from water running constantly overnight. New solutions are emerging for this use case.
Neil Lakomiak is UL's director of business development and innovation for the building and life safety technologies business division. He is a professional member of the Society of Fire Protection Engineers and a member of the National Fire Protection Association, International Association of Chiefs of Police, the Security Industry Association, and Infragard.
Email comments and questions to edward.sullivan@tradepress.com.
Continue Reading:

Leak Detection

Understanding New Leak Detection Technology

Leak Detection Technology: Proper Installation, Maintenance a Must
---
---
---
Related Topics:
Comments