Jachimowicz's Move Through the Ranks at Marriott
Part 3 of 4-part article on Lenny Jachimowicz's rise from plumber's helper to global VP at Marriott
OTHER PARTS OF THIS ARTICLE
Pt. 1:
Big-Picture Guy at Marriott: A Profile of Lenny Jachimowicz
Pt. 2:
For Jachimowicz, a Business Result Must Drive Projects
Pt. 3: This Page
Pt. 4:
Self-Improvement Ethic, Leadership Were Key for Jachimowicz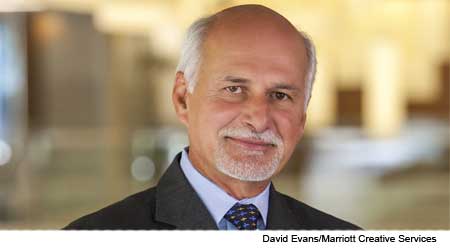 When Jachimowicz took his first Marriott job as a Philadelphia teen, it was a far different era. In expressing mild regret about not finishing a college degree in his youth, he says his career path probably wouldn't be possible today. Back in 1972, he says, the company was young, with few hotels. If you were good, you could move through the ranks, from job to job — in his case, working his way through the maintenance ranks to senior mechanic, then assistant chief engineer, chief engineer, and up from there. "Marriott is all about your performance," he says. "Once you get in the door here, if you perform and you're a contributor on a regular basis, you'll be recognized and rewarded for the work."
He's more than made up for the lack of a formal degree by taking business courses, attending Hofstra University Continuing Education, graduating from Marriott's Executive Development Program, and following a lifelong pattern of self-education. "I don't feel as though I can't hold my own in a room," he says. "And really I meet some brilliant people. I'm not intimidated by them; I'm energized by them."
To which his former Marriott colleague John LaHaise says, "He shouldn't feel intimidated — he can stand up against anybody in the business." LaHaise, now owner of Cooper Site Solutions, adds, "He knows everything about the business. But he's not an arrogant person, not a know-it-all at all. He's very kind and considerate. He just makes you feel good."
For another longtime colleague, Robert Jones, a vice president of engineering and facilities at Marriott International, Jachimowicz endears himself to coworkers because he has never forgotten his roots. In the morning, he says, the one-time "plumber from Philadelphia" can have an inspirational, funny talk with hourly engineers, then that afternoon turn a switch and conduct himself effectively in a meeting with Executive Chairman Bill Marriott about multi-million-dollar engineering decisions.
Continue Reading:

Hospitality Industry

Big-Picture Guy at Marriott: A Profile of Lenny Jachimowicz

For Jachimowicz, a Business Result Must Drive Projects

Jachimowicz's Move Through the Ranks at Marriott

Self-Improvement Ethic, Leadership Were Key for Jachimowicz
---
---
---
Related Topics:
Comments