How ProFM Improves The Core Competencies of Facility Management
The five cross-functional competencies include communication, sustainability, quality, innovation, and collaboration.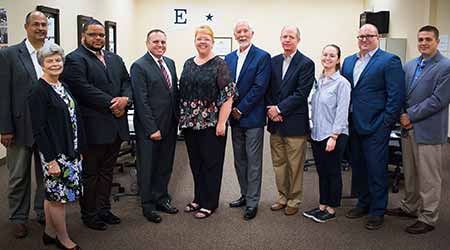 What distinguishes superior performance? 
The short answer: competency.
Being competent in one's field suggests an advanced performance level. The categories typically used to define a competent individual include: technical, managerial, cognitive, and interpersonal, with leadership at the helm in its own "super competency" category combining said skills and abilities. These attributes are then used by an industry or organization to form core competencies, giving a competitive advantage when performed.
Today's facility professionals are being asked to go beyond traditional tasks, to become agile, focusing on driving organizational success. In developing the ProFM, 19 functional knowledge areas and five cross-functional competencies were identified.
We asked a member of the ProFMI Commission, Stan Mitchell, CEO, Key Facilities Management International, and chairman, ISO Technical Committee 267, to explain these core competencies and their applications to facility management.
The ProFMI Commission called out five cross-functional competencies. Why do you think it was critical for those to be included?
Facility management is such that the ideal set of skills and competencies are diverse, therefore there was a need for ProFM to capture the essence of that diversity. To achieve ideal categories, they brought together ProFMI Commission members who represented a broad spectrum of experience, coming from different and varied perspectives. Through dialog, discussion, challenge, and critique, a consensus arrived defining what those core cross-functional competencies should be.
Core competencies vary and are subjective in their meaning. There is little doubt that they are relevant in everything we do in today's modern world. When you then take a deeper dive into the nuts and bolts of what we do within FM there is always an opportunity to apply some of these cross-functional core competencies to improve our performance.
The five cross-functional competencies, developed by the ProFMI Commission include:
•Communication
•Sustainability
•Quality
•Innovation
•Collaboration
Organizations are expanding their expectations of facility management to include both technical and business acumen. What does a facility manager need for success in today's profession?
Good grounding plus experience. A successful facility manager needs an understanding of where they are on their particular journey in relation to skills and competencies. Once they have clarity in that regard, they can develop their road map, and continue their journey through knowledge and experience to achieve their ultimate goal.
Facility professionals are being asked to think and act strategically. How can they use communication tools to express their positions to the C-suite?
I do not think that this requirement is limited to communicating with the C-suite; it equally applies to all the stakeholders we need to engage with. To a great extent, we are a customer service discipline that needs technical knowledge to meet our objectives. Not all of us are particularly good at the communication aspect of our role.
The most important lesson that I learned throughout my career is to talk the right language, i.e., communicate in the terms of the stakeholder you are communicating with, not your own facility-management speak.
How do standards come into play regarding communication skills?
Standards are the basis of everything we do whether formal and documented or simply through our behaviors. In the context of FM, they carry a respect that is not challenged in that they form a neutral but competency based perspective on the topic that they are focused upon; within an FM context standards exist at national and now international levels.
Why are collaboration skills important to facility managers? How does peer-to-peer information sharing assist in helping facility managers achieve their goals?
Such skills are essential for a facility manager. What we deliver in support of the organizations and people that we serve can only be achieved through effective collaboration; failure to recognize that will mean that opportunities have been lost.
Peer-to-peer information sharing is simply common sense. If we do not collaborate we will never deliver the optimum solution, whether that be at work, in sharing education and knowledge, or professionalizing our discipline; we will then look back and realize that we missed the opportunity.
Email comments and questions to tim.rowe@tradepress.com.
---
---
---
Related Topics:
Comments