Health and Wellness Strategies Soar to Combat Coronavirus
Three leading organizations add a coronavirus mitigation layer to health/wellness and sustainability architecture.
One year ago: Panic. Lockdowns. Shelter-in-place. Images of overrun hospitals, overworked doctors and nurses, and an overheated political environment. Buildings stood completely empty and facility managers wondered whether their profession as they knew it would ever be the same. This pandemic has been unlike anything we've ever seen before. But as the light at the end of the coronavirus pandemic tunnel continues to grow brighter, looking back now is illustrative of how far we've come in terms of understanding the virus and what strategies in buildings can best continue to create health, safety, and wellness benefits for occupants.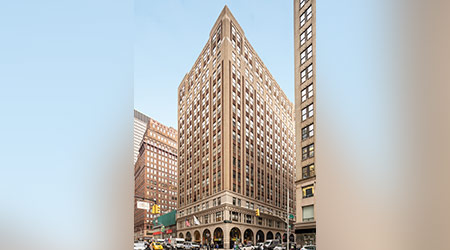 Empire State Realty Trust, courtesy of IWBI
The beginning of the pandemic was the Wild West — at first, we weren't even wearing masks. We didn't know how easily the virus spread through the air. And we truly didn't understand how contagious the virus is. But we learned. And we began tailoring strategies to keep commercial and institutional building occupants safe and healthy.
Three major industry organizations — the U.S. Green Building Council, the Center for Active Design, and the International WELL Building Institute — have led the charge in contributing evidence- and science-based guidelines to the buildings industry about how to slow the spread of coronavirus, and reopen buildings safely. Each organization has built a suite of strategies to sit on top of its existing guidance for occupant health and wellness and full building sustainability. These modules are complementary not only to each other but also to these organizations' own signature rating systems.
The strategies contained in these modules pull together the best in thought leadership and science in the buildings industry. By and large, these are not new strategies. Rather, they represent a reprioritization of many existing, familiar strategies for operating safe, healthy, and sustainable buildings.
What's more, these modules can help facility managers measure, monitor, and analyze the effectiveness of air quality, sustainability, and health and wellness strategies.
As the pandemic enters its second year, but with the end possibly in sight, looking at each of these three modules, and the strategies therein, can help prepare buildings not just for the months ahead, but also well into the future.
Continue Reading:

COVER STORY: Coronavirus Strategies

Health and Wellness Strategies Soar to Combat Coronavirus

LEED Safety First Credits: Battling Coronavirus Sustainably

WELL Health-Safety Rating: Linking FM and Wellness, Health, Safety

Fitwel Viral Response Module: Best Practices for Slowing the Spread
---
---
---
Related Topics:
Comments