You Might Like
On FacilitiesNet
FM Pulse: Staff Reductions Affect Not Just Facilities Management, But Also Internal, External Support Systems
Adding to the pressures on facility managers is the fact that outside organizations they depend on — suppliers, the professional services firms like architects and engineers, and even insurance companies — are also working with less staff. Some city, county, and federal governments have instituted austerity measures, and many agencies have switched to on-line programs, which means that some facility managers have to do much of their own research. These staff reductions are making it harder for facility managers to rely on both internal and external support systems.
The problem isn't just that people aren't available when facility managers need them. Some manufacturers no longer stock as much equipment as they used to. "You need to plan your orders way in advance and get commitments from the end user that you can go ahead and order the long-lead-time items," Althoff says.
That's exactly what Jeff Tetrault, director of facilities and construction at Crouse Hospital, has run into. In response to tough times, suppliers and vendors are not stocking all the parts the hospital may need on short notice, because they are trying to lower their inventory levels. Just-in-time delivery practices, on the part of both vendors and the hospital, affect the ability to get equipment in a timely fashion.
"We are trying to reduce inventory for our maintenance," Tetrault explains. A computerized maintenance management system has enabled the hospital to reduce inventory for air filters for its 23 air handlers. The hospital first purchased filters semi-annually, then quarterly, and now monthly, in an effort to reduce costs.
Outsourcing Has Grown
Outsourcing has grown over the last 15 years, says Friday. "Companies are looking for ways to improve the business bottom line," she says. "It can be the answer if you are good at identifying requirements, scope of work, and metrics. But it's not a panacea or the universal answer to saving money.
Companies have gone through a learning curve with outsourcing. "Initially facility executives were skeptical about outsourcing, and probably for good reasons," says Friday. "We went through periods where the company would outsource everything. Gradually they brought things back in-house and learned to do strategic outsourcing, as facility managers became more comfortable with it and saw it as a tool rather than a threat. They began to accept it more and utilize its benefits."
Outsourcing is creating opportunities for entrepreneurs like Julie O'Laughlin, director of campus services for SonyPlaystation in San Mateo, Calif. Sony recently relocated 1,700 people and is rebuilding a campus, going from a full-service to a triple-net lease, in which Sony has taken responsibility for running more than one million square feet of space. O'Laughlin, the principal of J Consulting, was brought in as an independent contractor to work with the internal facilities team to help reduce costs and streamline functions and process.
Consultants have a certain kind of freedom and control that in-house facilities professionals may lack, and they are judged on exactly what they bring to the table, says O'Laughlin. On the other hand, outsiders have to manage employees who are not actually their employees, which can create a challenging situation. "You are a project manager who has to manage sideways, up, and down," she says.
Staff Cuts Climbed In Past Year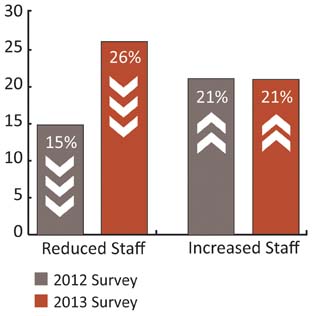 Continue Reading:

FM Pulse: Despite Challenges, Job Satisfaction Stays High For Facilities Managers

Tighter Budgets, Increased Connectivity Lead To Longer Hours For Facility Managers

FM Pulse: Staff Reductions Affect Not Just Facilities Management, But Also Internal, External Support Systems

Stress Reduction, Morale Boosts Are Areas Of Focus For Facilities Managers

FM Pulse: Developing Coping Strategies Helps Facilities Managers Handle Stress Of New Demands

FM Salaries and Job Satisfaction: Survey Results

FM Career Opportunities, Concerns: Survey Results

2014 Facility Budget and Staffing Plans: Survey Results
---
---
---
Related Topics:
Comments