You Might Like
On FacilitiesNet
Creative Engagement Case Studies Provide Proof of Concept
How space was developed for the Yale School of Medicine Child Study Center offers insight and lessons learned into the creative engagement process.
As with many processes, creative engagement is best understood by witnessing examples — or trying it oneself. At the Yale School of Medicine's Child Study Center, for example, creative engagement workshops were essential to drawing out valuable ideas to ensure functional, flexible spaces that make children feel comfortable in a clinical study setting. The overall project involved consolidating and relocating the center's clinical services to an existing building while "significantly improving the patient experience and integrating programs that are now scattered over multiple sites," according to Yale School of Medicine. Key goals included creating patient-centered clinical spaces with appropriately sized rooms for families, good acoustical privacy, and roomy waiting areas.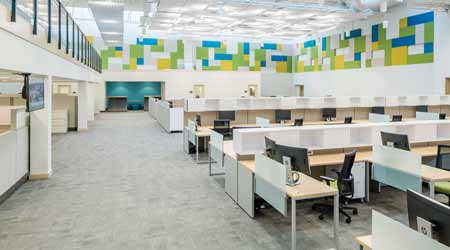 by Robert Umenhofer Photography
Helping children feel comfortable in the new facility — an admirable aim — required a highly effective process and design. In the creative engagement phase of asking animating questions, the facility management leadership and interior design consultants worked to inspire broad thinking while remaining on the same page in terms of project goals and aspirations.
For one exercise, the facilities director asked group participants to identify and present imagery that made them feel comfortable and happy. The collected input created a working list of what the center needed to help make children — many with mental health differences and a range of psychological and developmental needs — truly comfortable. In a second key exercise, the facilities team queried participants on what feelings they wanted child study center staff and visitors to have upon entering the facility. The team gathered the words and assembled a word cloud based on frequency and importance of the terms and adjectives used. The imagery, affixed on panels, and the word cloud captured highly relevant input that became touchstones for all downstream decisions.
These workshops helped to create the design narrative or charter for the project. They were an essential part of the engagement process.
With the unique mandate of the Yale Child Study Center — preventing childhood mental illness through integrated research, clinical practice, and professional training — the qualitative aspects of occupant ease and a positive experience are essential to a successful mission. It's not surprising they became central to the creative engagement process.
The work helped to galvanize varied stakeholders from all different work environments, seen as critical to the most successful outcomes for the new Child Study Center. These outcomes included significantly improving the patient experience and access for families, promoting center-wide collaboration and innovation, accommodating program growth, and improving relationships with referring providers.
Proof of concept: Benefits of creative engagement
For another project, the Yale New Haven Health System required a revamped and reorganized new workplace for its systems business office in New Haven, Conn. More than simply adapting a former high school gymnasium and storage facility to create 30,000 square feet of the acclaimed healthcare provider's administrative and business workplace, the project had to reflect the group's values of integrity, patient-centeredness, respect, accountability, and compassion.
Collaboration was achieved through both brainstorming and value engineering of choices, maximizing spatial requirements within the confines of a fixed concrete structure. The brainstorming elicited valuable workplace values for the healthcare provider, including the idea that "the entire healthcare system benefits when medical and support staff are themselves as healthy as possible." The main reason: Hospital employees experiencing wellness and workplace comfort will make better decisions and engage fully with their work.
The creative engagement approach also addressed physical facility attributes seen to help reduce absenteeism, employee error, and staff turnover. Formerly working in an office setting with dark, taller dividers and less visual connections to coworkers, the occupants asked for a more enticing and even joyful interior through the creative yet iterative process of "wash, rinse, repeat." The facility management team saw a direct connection between specific design moves — the dashes of color, the exposed and whitewashed ceilings, and the open workstation specifications — and the work challenges as they were distilled in the creative engagement takeaways.
The renovation incorporated a new mezzanine structure at the street and main entrance level to add 3,500 square feet of expansion space and create an engaging, open, and bright workplace ideal for collaboration and efficiency among the approximately 200 professionals. The design left exposed the original structure and mechanical systems. These were painted a soft white, complementing the new, high-efficiency lighting. Utilizing existing furniture and new furniture systems, the low workstations include individual desks and benching systems in groups of two people, back to back. A new stand-up huddle space serves as a mini seminar room, with pull-up trolleys and hidden ottoman-style seating. Throughout are woodgrain laminate finishes on work surfaces, as well as comfortable, colorful fabrics in greys and neutrals.
Lynn Brotman (lbrotman@svigals.com), IIDA, NCIDQ, is associate principal at Svigals + Partners, an architecture and design firm. Robynne Orr, is a project planner for the Yale University School of Medicine and West Campus for Yale Office of Facilities. Svigals + Partners, working with varied clients including Yale University, developed the creative engagement template presented in this article. Barry Svigals, FAIA, who helped develop the creative engagement method, contributed to this article.
Continue Reading:

Cover Story: Workplace Planning

How to Engage Occupants to Create Better Space

7 Steps for Successful Creative Engagement

Creative Engagement Case Studies Provide Proof of Concept

How Creative Engagement is Growing into a National Trend
---
---
---
Related Topics:
Comments