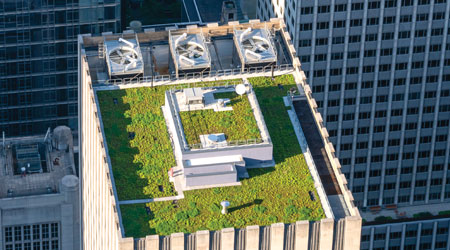 Building Exteriors Enhance Resilience Against Extreme Weather
Sustainable building strategies, especially for exteriors elements like roofs and walls, can help a building stand up to increasingly severe weather events.
For communities prone to severe weather, sustainable building strategies serve as the cornerstone for enhancing resilience. Building owners are becoming more attuned to resilience strategies as a way to improve their assets and address climate risks that have potentially costly repercussions. Momentum is building not just for strategies that tackle emissions, but also for measures that build resilience. Green building provides solutions to support building owners and facility managers, but more awareness of these strategies and solutions is needed.
According to the National Oceanic and Atmospheric Administration (NOAA), within the last three years there have been 44 billion-dollar disasters with costs estimated to be around $152.2 billion per year. Resilience planning is a key part of ensuring buildings and spaces are adequately prepared for and able to recover from such events. A resilient building must be resistant to reasonably expected natural disasters and climate impacts, including flooding, extreme winds, earthquakes, tsunamis, drought, wildfires, landslides, extreme heat, and winter storms.
The LEED green building rating system currently offers a series of resilient design credits to help project teams identify risks and potential vulnerabilities, ensure that information is taken into account through mitigation measures, and identify ways buildings can be used for safely sheltering occupants during a severe event. Together, the resilience credits in LEED reward project teams designing buildings to be energy efficient, adaptive, and resilient to impacts from natural disasters exacerbated by a changing climate.
Several examples of severe events illustrate how strategies focused on the exterior of a building can help improve overall resilience.
High wind and heavy rain
The most significant risk to consider, especially in hurricane and tornado zones, is the roof's ability to protect against extreme winds. When accounting for high winds, project teams and facility managers should adhere to FEMA standards for different wind zones. There are multiple strategies that facility managers and owners can utilize to avoid damage.
Strong hurricane-force wind loads can easily uplift segmented roof materials, creating dangerous windborne debris that can cause even more damage to the building, as well as surrounding buildings. For new and existing buildings, roof decks can be fortified and made thicker to avoid roof blow-off. It is recommended that nails (for new construction) and strong adhesives (for existing buildings) be used to attach the roof to the roof framing or walls in order to anchor and safeguard the roof against windborne debris.
Applying roof-hardening methods that provide a high-performance roof rated for wind velocities exceeding building code requirements is also important to consider. Facility managers can retrofit their buildings using hardening strategies, such as applying water-tight membranes on top of the existing roof and sealing joints, to protect against high winds and heavy rain. Roof damage is most likely to occur in areas where the roof and wall intersect. Parapets are an important place to consider weatherproofing using flashing and coping procedures to protect both the roof and walls from high winds and water penetration. For low slope buildings, additional sealing membranes in the roof system are recommended for sealing joints and waterproofing.
Lastly, roofs often have another consideration that lies at the intersection of sustainable design and resilience: onsite solar photovoltaic panels for generating electricity. Most building connected solar systems are installed on roofs where they are subject to extreme weather conditions. However, solar rack mounting systems are designed to be tough and withstand high winds. Furthermore, quality solar panels are also protected in the case of impact from hailstorms and debris. When selecting a contractor for installing solar panels, be sure to ask them about wind and snow load specifications for the system.
Extreme heat
For many states, climate change will continue to cause extreme heat conditions, which can seriously impact people's health and well-being. For example, in Georgia, a state prone to high heat days, 2015 data estimated there would be 20 dangerous heat days a year and by 2050 that will go up to more than 90. Buildings need to protect the people inside, but these scenarios can also exacerbate the cooling loads of a building. However, there are strategies that can help managers adjust.
Utilizing high-reflectivity roofing materials, like those that meet the Cool Roof Rating Council's standards, reduces heat gain in a building and is a strategy supported in LEED's Heat Island Reduction credit. Vegetation installed on the roof or walls can also serve as a cooling solution. As far as walls go, using glass with a lower solar heat gain coefficient, specifically on the east and west sides of the façade, is another way of reducing heat gain in the building. Designing exterior crates or exterior shading devices can also minimize solar heat gain during peak heat conditions.
As is true for multiple disaster-related risks, it is imperative to provide an airtight building with controlled ventilation and good insulation to limit airflow escaping through the building envelope during extreme heat conditions. These strategies not only save energy during normal building operation, but also protect against extreme wind and rain events.
Wildfire smoke
An added benefit of tight construction and building envelope air-sealing is the protection of occupants from smoke during seasonal wildfire events. In places like California and Australia, increasing seasonal wildfires not only threaten the lives of those in the path of the fires, but they also can lead to many occupants sheltering indoors when the air outside is not safe to breathe. A building that is designed with quality ventilation systems that includes adequate filtration will allow occupants to continue to work indoors in safe conditions.
The LEED rating system gives credit for buildings with enhanced indoor air quality strategies that improve indoor air quality through filtration and prevention of contamination. However, even the best designed building will be inadequate if maintenance is not performed regularly and mechanical systems are not operating as intended. For this reason, LEED and some local codes require new buildings to be commissioned, thereby ensuring that buildings are built to design parameters and are functioning as intended. For older buildings, be sure to review maintenance contracts regularly to ensure filters and HVAC equipment are serviced in advance of potential seasonal wildfires.
Snowstorms
Snow events can be very dangerous and unpredictable. It is best that a building owner have a plan in place in the event of an extreme snowstorm. For existing buildings and new construction alike, it is very important to have a snow event response and removal plan in place based upon the FEMA Snow Load Safety Guide.
In terms of actions facility managers can take, high levels of building insulation should be provided to minimize heat loss through the building envelope. In LEED, project teams are guided toward strategies that ensure 100 percent of normal building occupancy can occupy areas that have "livable temperatures" in the event of an extended power outage or loss of heating.
As is true for high wind and rain events, roof-hardening strategies should be used to mitigate winter storms. In the case of a snowstorm specifically, the roof system can be hardened to prevent potential collapse by designing the snow loads to be 1.2 times or more of ground snow loads.
For roofs, LEED's Design for Enhanced Resilience credit encourages teams to document how a project provides protection against the potential for ice dam formation. On low-sloped roofs, the goal is to prevent ice from forming around drains. For steep-sloped roofs, designs should include increased attic insulation and sealed ceiling penetrations. Applying a waterproof membrane on the roof deck at the roof edge can also act as an ice and water barrier. Consider proper insulation, sealant, and weather stripping or gaskets around all roof access doors between conditioned and non-conditioned space.
For walls, project teams and facility managers should consider insulation and sealants around all walls, doors, and wall penetrations to avoid frozen pipes. Monitor interior building temperature to prevent freezing of interior piping, such as domestic water and fire protection sprinkler systems.
The cost of resilience
The damage caused after an extreme natural disaster is likely to be far more costly than proactively adopting resilient strategies. But understanding the cost/benefits is crucial to making the case for resilient planning.
A report from the National Institute of Building Sciences found that for every dollar spent on federal grants aimed at improving disaster resilience, society saved six dollars. People benefit the most from resilient strategies. The report goes on to specify that $27 billion spent in mitigation grants over 23 years resulted in $158 billion in societal savings, and many of the strategies employed include those outlined above. The report also looks at what developers can expect and showed that every dollar spent on resilient design strategies that exceeded safety standards and building codes yielded four dollars in savings.
The many benefits and impacts of creating a more resilient building outweigh first costs, sometimes over the long-term and sometimes immediately if the building reasonably faces a natural disaster within one to five years. And the savings transcend any first costs from purchasing higher quality finishes, adding air-sealing, or installing higher quality equipment. While in many cases these investments will result in better performing buildings that save energy, the benefits to occupants, and sometimes the surrounding community, will far outweigh any energy savings when there is an extreme weather event.
A building that is safe and functional in a changing world will be more valuable than one that isn't. Indeed, better buildings equal better lives.
Karema Seliem, LEED specialist, sustainable sites and integrative process, oversees technical development of the Sustainable Sites (SS) and Integrative Process (IP) credit categories of the LEED rating systems and provides technical support for social equity, climate adaptation, and resilient infrastructure strategies.
Wes Sullens, LEED Fellow, is a director in the LEED department of USGBC.
---
---
---
Related Topics: