Brian Dean Pushes For Change, Builds Top-Notch Facilities Organization at T. Rowe Price
Part 1 of a 3-part cover story profile of Brian Dean, vice president and head of facilities management at T. Rowe Price
OTHER PARTS OF THIS ARTICLE
Pt. 1: This Page
Pt. 2:
Solar, Integrated Project Delivery Illustrate Dean's Emphasis on Strategic Thinking
Pt. 3:
SIDEBAR: 7 Things To Know About Brian Dean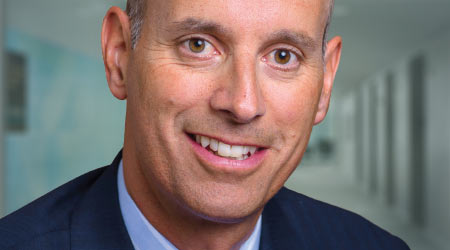 When Brian Dean came to financial giant T. Rowe Price about 10 years ago, it was a far different place than it is now. The company had a relatively small international footprint and $335 billion of assets under management. But starting in about 2008, he says, the company put new emphasis on growing globally and strengthening its brand around the world, eventually boosting that asset figure to $764 billion, its workforce to 6,000 employees, and its global presence to 36 office locations.

The size and complexity of Dean's facilities group grew right along with the company. In the process, he emerged, in his calm, analytical way, as the antithesis of the type of facility executive who keeps his head down and avoids risk. He has been a pathfinder for T. Rowe Price in an array of areas: building a facilities organization that can properly support the demands of a global company, using the integrated project delivery method for construction projects, adding solar energy to facilities, and leading the way on open-office design concepts — even going so far as to blow up his own office in favor of a single desk.

Dean's big-picture focus has inevitably changed the nature of his job, which has transitioned from "a hands-on, technical kind of individual contributor" to a manager and coach. "What I'm trying to do, more than anything else," he says, "is build the right team, and work with those teams to ensure we're doing the things to support the firm in terms of appropriate solutions and services, and to give those teams empowerment, authority, and accountability to do what they need to do.

"Do I need to know what particular maintenance plans are required for air handler units or major mechanical or electrical equipment? I don't need to know that specifically. What I need to know is that we have the right resources and teams in place that are masters of those disciplines, and to help ensure that we are thinking about the right issues in terms of managing major building infrastructure and critical systems."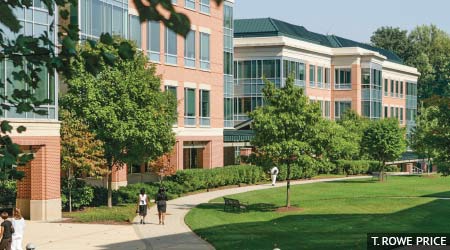 Photo caption: The company's global total of 2 million square feet and 36 office locations includes its corporate campus in the Baltimore suburb of Owings Mills, Md., where Dean spends the bulk of his time when not traveling.

Building His FM Structure
When Dean is not traveling to T. Rowe Price facilities as far-flung as Singapore, Sydney, and London, he works mainly out of the company's corporate campus in the Baltimore suburb of Owings Mills, while also dropping in weekly to corporate headquarters in downtown Baltimore.

The company's facilities include general office space, trade floors, data centers, call centers, and walk-in investor centers, with retail spaces averaging 3,000 to 5,000 square feet. Of T. Rowe Price's global total of 2 million square feet, 60 percent is owned real estate, at its campuses in Owings Mills and Colorado Springs.

Dean arrived from AOL in 2006 to take a job, at age 39, as T. Rowe Price's vice president and group manager for planning, design, and construction. A colleague's retirement in 2012 expanded his role, and today he is vice president and head of facilities management. When asked to break down his job, he lists five distinct groups spread out over 45 employees, and supported by another 50-plus JLL personnel in a variety of facility management areas. "Not only do we have to understand the world of facility management, but how T. Rowe Price's business is growing and changing," he says, "and then how the real estate and FM organization has to grow and evolve to support that."

Dean's real estate and workplace strategy group, run globally out of Maryland, looks at how T. Rowe Price's business is growing and changing at a strategic level, ensuring that the firm is prepared to have the right amount and type of space globally, and that it's configured to support current and future workstyles and workplace goals. A construction and project management group, also run globally out of Maryland, builds and renovates the company's spaces. A workplace solutions group is dispersed regionally, so that it remains closely connected with T. Rowe Price employees and departments at each company location; this group oversees such issues as space use, workplace design, and workplace changes. A facilities and services group operates and manages T. Rowe Price's spaces on a day-to-day basis, dealing with areas that include engineering and operations, mission-critical locations, maintenance, housekeeping, grounds, food services, mail service, records management, fitness centers, and the help desk. An FM technologies team supports the move to increased automation.

To hear Dean talk about facility management is to hear an impressive intellect in action, and an orderly mind that has seemingly created a system of mental email folders to stay on top of a big job. "Brian is very hands-on — he doesn't micro-manage, don't get me wrong — but he has his finger on every pulse that's out there as to what's going on, and can speak not just at a high level about it, but in detail," says his boss, Kevin Meyd, director of business services.
Top photo caption: Brian Dean emphasizes the development of a strong team. He has broken his staff of 45 down into five groups, supplemented by another 50-plus outsourced personnel. Credit: T. Rowe Price
Continue Reading:

COVER STORY: Brian Dean Profile

Brian Dean Pushes For Change, Builds Top-Notch Facilities Organization at T. Rowe Price

Solar, Integrated Project Delivery Illustrate Dean's Emphasis on Strategic Thinking

SIDEBAR: 7 Things To Know About Brian Dean
---
---
---
Related Topics:
Comments