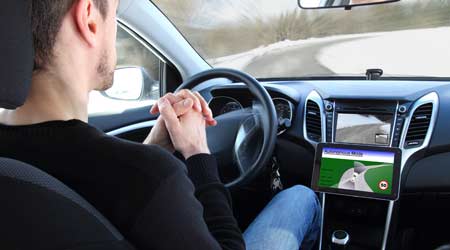 Autonomous Vehicles: Lowering Demand for Facility Parking?
For facility managers, the major question is how plan for parking - will the growth of autonomous vehicles mean fewer parking spots/structures are required?
The emergence of autonomous vehicles, coupled with the explosion of ride-sharing apps, likely will reduce demand for parking spaces. These trends already are influencing the design of both parking structures and facilities adjoining them.
The idea of ceding control to a driverless or autonomous vehicle still prompts heart palpitations for many. Yet sales of autonomous vehicles likely will top 33 million annually by 2040, research firm IHS Markit estimates. "Companies like Waymo (Google) and Fiat Chrysler are all working on or will be producing and selling AV's in the next 18 months," says Sandra Boyle, a senior managing director with Cushman & Wakefield.
If that seems hard to believe, remember that, less than a decade ago, most people would have balked at the idea of getting into a stranger's car. Yet since Uber was founded in 2009, riders have taken more than five billion trips through that ride-sharing service alone. The trend shows no signs of stalling. In its 2017 report, Rethinking Mobility, Goldman Sachs predicts the number of daily ride-hailing trips will jump from 15 million to 97 million between 2016 and 2030.
"For a lot of things, it's easier not to drive a car and not to have to park," says Bob Best, sustainability lead, Jones Lang LaSalle. "Now, it's easier and more possible."
Impact on parking
In the future, more of us will shuttle to and from transportation hubs, Boyle says. That means lower demand for parking spaces. Similarly, as more individuals use ride-sharing apps to move around town, they'll have less need to park their own cars. "The shift already is having an impact in San Francisco parking garages," Boyle says, adding that this is a result both of increased use of Uber and Lyft, as well as the popularity of public transit in the city.
Even as onsite parking declines, demand for drop-off zones will increase, says Laura Sagues, a senior vice president with CBRE. To accommodate this interest, building owners will need to provide drop-off zones with easy access and egress, as well as adequate space for unloading multiple cars at once, she adds.
As demand for parking drops, the value of parking areas is likely to decline as well. Building owners and developers will look for alternative uses for the parking spaces they already have. Surface parking lots likely will be converted to vertical developments, as the lots often are ideally located for office, retail, and hotels, among other uses, Sagues says. Gas stations also may be targets for redevelopment, as fewer individuals own gas-powered vehicles.
When working on longer-term developments, Sagues suggests shifting excess parking to later phases of the project, under the assumption some will need to be re-purposed anyway. "That keeps open the option of curtailing that parking requirement if conditions eventually permit," she notes. In some markets this may involve working with the city to reduce parking requirements, she adds.
Developers should ensure — before they build — that the heights of a parking structure's individual slabs can be used for other purposes, such as offices or data centers, in case a conversion eventually is necessary, Sagues adds. Conversions to other uses, such as residential units or hotel rooms, may be possible, but more difficult to pull off, she says. "Massive garage floorplates will be tough to efficiently split into decent hotel or residential units."
To be sure, these changes are likely to play out over a number of years. But that doesn't mean they can be ignored for a while. "Commercial real estate developers and investors need to take into account now that the increasing adoption of ride-sharing services and autonomous vehicles will have significant impacts on the design and use of parking at their properties," Sagues says.
Karen Kroll, a contributing editor for Building Operating Management, has written extensively about real estate and facility issues.
Email comments and questions to edward.sullivan@tradepress.com.
Continue Reading:

Cover Story: Facility Technology

Technology Shaping the Future of Buildings

Virtual Reality, Augmented Reality: Better Visualization Aids Operations

Machine Learning: Making Sense of Big Data

Electric Vehicles: Should Facility Managers Invest In High-Speed Charging?

Wearables: The Body Is The New Credential

Drones: An Opportunity and a Challenge

Autonomous Vehicles: Lowering Demand for Facility Parking?
---
---
---
Related Topics: