AEDs: Solution to an Off-Beat Problem
As knowledge about their effectiveness spreads, automated external defibrillators are becoming must-have equipment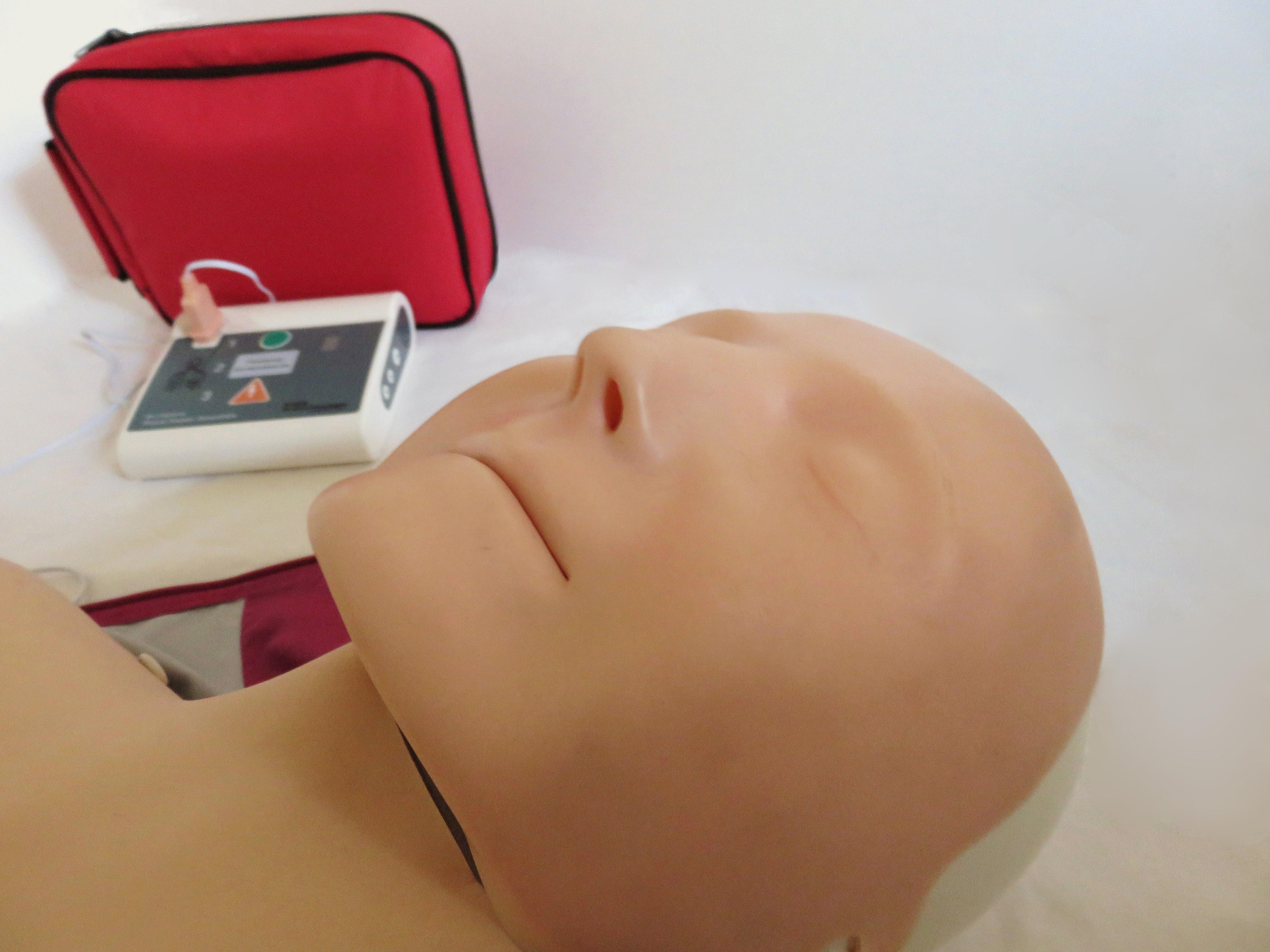 Automated external defibrillators, or AEDs, aren't just for hospitals anymore: If you've been in an airplane, airport, casino, federal building or health club lately, you've probably seen one yourself. One estimate has nearly 40,000 AEDs sold in 2000, with the market for them doubling about every 18 months. The number of people trained in the American Heart Association's Heartsaver AED course has increased 377 percent from 1999 to 2001.
"Everybody is seeing a dramatic increase in interest about defibrillators," says Ed Racht, EMS director for Austin, Travis County, Texas. And when you consider the statistics, it's no wonder why. Sudden cardiac arrest — when the heart suffers an abnormal electrical activity, resulting in an irregular heartbeat — kills about 680 people a day, reports the American Heart Association. Defibrillation, the only known therapy, can restore the heart's normal rhythm if it's given within minutes of the arrest. Every minute without defibrillation decreases a victim's chances of survival 7 to 10 percent. Long-term survival statistics are 1 to 2 percent for cities in which emergency medical systems' response times are prolonged because of traffic congestion and high-rise buildings. But in cities where defibrillation is provided within 5 to 7 minutes of arrest, the survival rate is as high as 49 percent.
So with such dramatic statistics for what is literally a life-or-death situation, why don't more facilities have AEDs? Most say it comes down to three reasons: lack of knowledge, both about safety and ease of use; cost; and concern about liability.
Overcoming Obstacles
Lack of knowledge is countered with education and training. "The hardest thing about incorporating AEDs was convincing store personnel that AEDs are here to help," says Chuck Balko, property manager with Wyoming Valley Mall, home to more than 90 stores, in Wilkes-Barre, Pa. "The employees were a little intimated at first. The training showed them how easy it was." Their importance was driven home when a shopper was saved a couple of months ago in one of the mall's stores.
Hesitation and trepidation are common initial responses to using AEDs: People are afraid that they'll do something wrong and hurt the victim. "The idea of shocking someone does seem ominous if you don't understand all the details," acknowledges Racht. People need to understand that the device will not issue a shock — even if the button is depressed inappropriately while the person is hooked up to the machine — unless the AED recognizes the erratic heartbeat that signals an arrest. And, to put it bluntly, if they don't help, the victim is likely dead anyway.
"Once people understand the system and what you're trying to achieve and that there's no chance for an inappropriate shock, they get on board," says Larry R. Baker, deputy director, property management division, building services department, City of Houston.
"If you can understand English and you have vision, you can operate an AED," says Bill Buth, president, Greater St. Paul, Minn., Building Owners and Managers Association (BOMA) International. "This isn't brain surgery." And even if you don't understand English, you can still operate one: AEDs have the capacity to be programmed into such languages as Spanish, Portuguese, German and Japanese.
As far as cost, the price of AEDs is coming down. What once cost roughly $3,200 has dropped to about $2,700. And when an AED is purchased, the buyer receives not only the equipment but the training and expertise of the company providing the device. But the most important point to remember, says Buth, is that you can't put a price tag on a human life.
"The cost is miniscule compared to the value," agrees Randy Kohana, a real estate owner and investor in New York City who was saved with a defibrillator when he had an arrest while on vacation in Aspen, Colo. He was 38 at the time.
Liability Concerns
A common hurdle to placing AEDs in facilities is liability. Mark Shields, president, American Security Corp., recalls that when an employee came to him about purchasing an AED, he expressed a concern about liability if something went wrong. "What's the liability if we don't do it?" responded the employee, Dave Grovum, the company's training director. "When he put it that way, it was an easy decision," says Shields. And a fortunate one: A little over a year after AEDs were installed in the facility, Grovum saved a passerby who collapsed on the sidewalk outside of the building.
Currently, all 50 states have Good Samaritan laws that extend limited immunity to those rendering emergency care. AED manufacturers also offer liability protection to trained employees, and a facility's liability policy should also cover employees in these situations. Some insurance companies even offer grants to companies that wish to purchase AEDs, as well as discounts to facilities that have them installed.
It is critical to note that there has never been a case where a person who used an AED in an emergency situation was sued. But there have been cases where airplanes and amusement parks that did not have an AED were sued. "There is less of a fear of liability now because experts have promoted the legal acceptance of AEDs," says Racht. "The legal pendulum is swinging in the other direction." Nowadays it is more risky to not have an AED in a facility than it is to have one.
Most people believe that the proliferation of AEDs will only increase. "If the trend continues, AEDs will probably be as common as fire extinguishers," says Marco Giamberardino, director of codes and standards for BOMA. BOMA is expecting to release a guide to implementing AEDs for property owners in the third quarter of this year. This is following its unanimous approval of a policy approving AEDs' use last year, a move prompted by a call from their membership.
Legislation
Various proposed pieces of AED legislation, both state and federal, are in the approval process. Possibly the most significant one is the Community AED Act. The act was incorporated into the Public Health Safety and Bioterrorism Response Act, which has been passed by both houses of Congress and is waiting for a presidential signature. The law would provide $30 million in federal grants for AED purchases and training in 2003, with additional funds available for 2004 through 2006. The Community Access to Emergency Devices Act, passed by the Senate in February, authorizes more than $55 million annually for communities to purchase and place AEDs and to train responders. The Rural Access to Emergency Devices Act, which was signed into law in November 2001, authorized up to $25 million in federal funds to help rural communities purchase AEDs.
Houston and St. Paul are two cities leading the charge to install AEDs in public buildings. New York state has a number of proposed and recently passed bills concerning AED usage and placement. One proposal would require New York stadiums, arenas and convention centers to be equipped with AEDs. A recently passed New York law requires AED placement in schools and at school-sponsored athletic events. Following various incidents where students have died at schools that did not have AEDs, the devices have also been placed in schools in New Jersey, Massachusetts, Wisconsin, Illinois and Ohio, with more school districts expected to buy them as well.
Resources
When a company decides to install an AED, it has a wide array of resources at its disposal. The American Heart Association, American Red Cross and National Safety Council are good places to start for assistance, offering everything from statistics and legal guidance to advice on how to select an AED and start a training program. Many of these organizations can even help companies gain funding for AED purchases.
Manufacturers, consulting firms local emergency medical services and health care organizations are also good sources. They will walk through the facility to determine where to place the AED and whether more than one machine is needed. They will usually help with the maintenance of the devices, and they will offer, or will help coordinate, training and retraining for employees.
Training is a critical component of having an AED: "Just having an AED in a building is meaningless," says Kohana. Although the device is easy to operate, there are other elements such as CPR that go along with AED usage. A successful approach to installing AEDs involves the entire company, not just one person, and ensures that everyone is educated as far as AED use and location, CPR and warning signs of cardiac arrest.
People should understand that an AED is an investment in employees' — and the community's — welfare and health. Judging from the high occurrence of sudden cardiac arrest, many employees will have the opportunity to use their training elsewhere. Racht relates the tale of a law firm in Austin that did widespread employee training after installing AEDs. While one of its lawyers was visiting Houston, he was able to revive someone, using his training and the Houston facility's AED.
"Property managers are always looking for that extra intangible that gives comfort to tenants, like the physical presence of security guards," says Shields. "Tenants need a sense of security presence, and this is one more product that can bring a comfort level to tenants."
AEDs: Help is as close as your fingertips
Facility executives who are considering the purchase of AEDs should use an outside source, even if it is just for help in the initial stages.
---
---
---
Related Topics:
Comments