You Might Like
On FacilitiesNet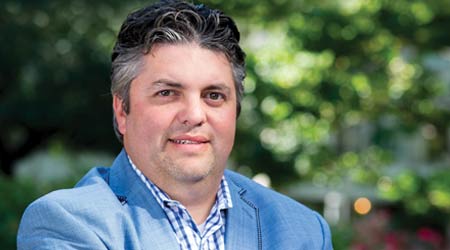 Photo: The Rockefeller University
A History of Facility Management Successes
From awards for energy efficiency to hitting emergency power targets, Alex Kogan's list of successes continues to grow.
There are many showpiece achievements that Kogan could point to as highlights of his career at Rockefeller so far. Like the glittering new River Campus. The fact that the university met the mayor's carbon reduction challenge of a 30 percent reduction over 2005 levels by 2017 ahead of schedule, overcoming the challenge of 24/7 operations and innumerable fume hoods. (The energy efficiency efforts garnered a 2015 award from the Association of Energy Engineers.) The fact that the university came through Hurricane Sandy with only modest damages, through strategic advance planning and a committed staff response.
But when asked what he is most proud of, Kogan mentions two things. One is that 80 percent of the campus is on emergency power, and the infrastructure of the power plant has been continually upgraded so redundancies for power, heating, and cooling have all been increased. "When you put a generator in and electrical panels in, nobody really sees that stuff," says Kogan. "But when there's an emergency and the generators are running, that's a very comforting sound for everyone."
They maintain enough fuel on site for one work week. The longest the backup power system was tested was during the big blackout in 2003, when they were off utility power for 19 hours. There were no scientific losses.
Another point of pride for Kogan is staff development. The university promotes staff continuing to pursue education. Kogan himself got his MBA during his tenure. "I love seeing people promote themselves," Kogan says. He has several employees who started entry-level as porters or custodians and are now operating engineers. Kogan prefers to promote from within when possible to ensure fit and shorten the learning curve on institutional knowledge. "They went to school at night, they worked hard, they got into the power plant, learned a lot about equipment, got their license," Kogan says. "Those are the guys I always look at."
It's those quiet wins that shine for Kogan. He seems to have an engineer's appreciation for the internal clockwork, the well-tuned machine that operates reliably, intelligently.
Email comments and questions to naomi.millan@tradepress.com.
Continue Reading:

On Facilities Leadership: Leading By Example

Collegial Atmosphere Leads To FM Success at Rockefeller

Effective Facilities Management Is Level-Headed Facilities Management

Facilities Management Input Is Critical For New Construction Projects

A History of Facility Management Successes
---
---
---
Related Topics: