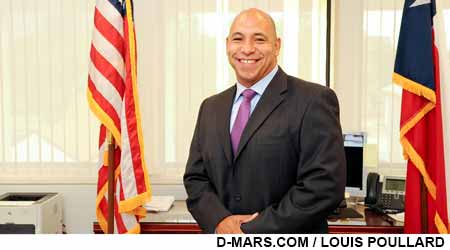 A City Facility Director on Understanding Influence of Politics, Diverse Constituencies
Part 3 of a 5-part article profiling the leadership and style of Scott Minnix, Houston's director of General Services Department
The nature of municipal facilities management presents many challenges besides the simple fact that everything the department does is up for public scrutiny. One challenge is the influence of politics. Houston has 16 council members representing one of the most diverse constituencies in the United States. The needs the council brings forth are hardly homogenous. "The challenge is that, as you try to bring strategy to a large organization and a large city like Houston, you have to take into consideration that strategy might work for 40 percent of the people, but not all of them because we're so diverse, so different," Minnix says. "We have to spend a lot of time and resources in trying to get buy-in so that we're all pulling in the same direction."
And prior to the most recent election cycle, council members were running for re-election every two years, making it difficult to move forward on projects that had long-range payoffs. Luckily, council member terms were recently changed to four years. "Now they can take a longer-term approach than they had before," Minnix says.
Minnix says he understands other challenges facing the city council. They have to focus on the city's top priorities, things like a clean water supply and public safety. Once you get down to the level of city infrastructure, items like roads used by millions of people every day are higher on the list than the city buildings. And then citizens have their own priorities. This all puts the city's purse in a bind.
Even so, Minnix says it is his job to send consistent messages to the city council and other stakeholders about what the needs and priorities are in the portfolio, what is at stake. "When a city building goes down, people don't really get the total impact it can have," he says. If a data center for the police department goes down, for example, the police can't run warrants or background checks, and people due to get out of jail can't get their information, he says.
"I have to continually be able to paint that picture," Minnix says. "I have to be really in tune to my people, but also be in tune to the political framework that runs this city and be able to share with them what exactly is going on. I have to stay consistent with that message, and I have to do it on a regular basis. It's not a one-time 'I told you.' I have to continue playing my music on a regular basis. And they'll start to listen."
Besides being in tune with the top levels of city government, Minnix says he makes it a point to connect with the leaders of individual departments, from the parks to the libraries to the head of the animal shelter, to understand their day-to-day needs. "You really need to understand the operational needs of everyone that you serve," Minnix says. "And build relationships with those leaders so that you know what's important to them and how they prioritize their work, so that you're in alignment."
Continue Reading:

Profile

Houston's Scott Minnix Made Facility Assessment His First Priority

Minnix Helped Secure Key Maintenance Funds

A City Facility Director on Understanding Influence of Politics, Diverse Constituencies

Minnix's Facilities Role Akin to Air Traffic Controller's

For Minnix, Municipal Real Estate Portfolios Demand Different Paradigm
---
---
---
Related Topics: