Stress Reduction, Morale Boosts Are Areas Of Focus For Facilities Managers
As layers of management have been peeled away, facility managers have had to deal more with the rank and file. This has led to more of a focus on stress reduction and morale boosting. "Facility executives are more cognizant of the fact that they have to be attuned to what's happening with the rank and file because they are asking more of them — they may have to work a weekend shift or take on more responsibility," Friday says. "If they are good managers, they know they have to compensate employees in some way." That may take the form of starting a company bowling league, giving people the ability to work remotely, or providing recognition with a monthly luncheon. Facility managers have to be more creative and also increase communication with people at all levels and engage in group problem solving, Friday says. And that's exactly what effective facility managers are doing.
Peterson worries about dissatisfied employees, especially HVAC technicians and other skilled employees, moving on to private companies or other schools. Many people do stay, because they like working for the school district, and they enjoy long-term state benefits.
Little Things Help
To try to alleviate workplace stress for the rank-and-file, Peterson tries small things that show that employees are appreciated, such as lunches or barbecues. In the workplace, supervisors screen orders and keep them reasonable, so that maintenance workers do not feel overburdened. "We have a good group of people here. They all are going through the same thing, but they plug along. They are still doing their job and trying their best," he says.
Berman notes that, when it comes to stress, it can be difficult to separate work factors and personal factors. "I try to get to know people," he says. "If I have a good employee and I know they have issues, I might be more flexible with work hours or time," he says. He himself does not feel stressed, since he has a supportive family, good health, and the ability to work long hours and decompress in his off time.
Tetrault manages 140 direct reports, and he takes pains to listen to them, interact with them, and thank them on a daily basis. He now has an employee recognition program, which offers kudos to selected employees once per quarter. "We have cake and punch or pizza, and for 90 minutes we meet and talk about non-work-related stuff," Tetrault says. Two outstanding employees receive a certificate, tee shirt, and small gift at this meeting. All employees attend the quarterly event, which is financed by supervisors and managers, since the "nourishment budget" no longer exists. "It's a huge morale builder," Tetrault says of the program. "We are asking employees to do more in less time and still provide a quality product." Day-to-day listening and interaction also help keep employees on an even keel.
Althoff recommends that facility managers help keep up the morale of the people they supervise by continually asking questions and giving them feedback on their programs. "It's important to be sure they have the right tools, that they understand your objective and the company's goals, and that they are rewarded for high performance. Recognition and appreciation are the best feedback you can give to your staff. Also, encourage them to grow in their job," he says.
And what about the stress that facility managers are experiencing? Friday says one way facility managers can cope with their own job stress is by networking with a cadre of colleagues. "You can commiserate with them, or call them up when you need advice. If you have two or three people you can brainstorm with, it is very helpful."
Retirement Delays Still Common for FMs
The number of FMs who say they delayed retirement because of the economy dropped in 2013, according to the FM Pulse survey, but a significant number of those nearing or at retirement age opted to continue working.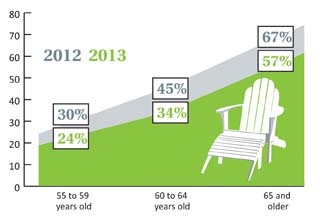 ---
---
---
Related Topics:
Comments