Tools Evolve to Meet Users' Growing Demands
Advances in power, versatility and battery technology can lead to more effective specification and application
OTHER PARTS OF THIS ARTICLE
Pt. 1: This Page
Pt. 2:
Lithium-Ion Batteries Create Interruption-Free Work
Pt. 3:
Cordless Power Tools Continue to Add Features and Improvements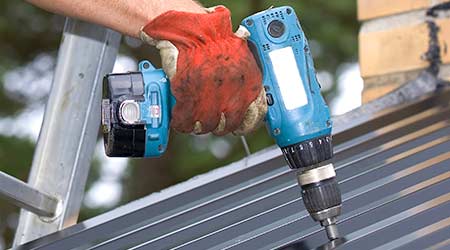 Power tools are mainstays of many maintenance and engineering departments because of their versatility and durability. Front-line technicians have come to rely on these products — including drills, drivers and saws — to complete a range of critical for electrical, mechanical, and structural tasks in institutional and commercial facilities each day.

The tools do the work much faster than manual hand tools and with much less drain on energy, and cordless versions have become the tools of choice because of their ease of setup and use. As demand grows for cordless power tools, manufacturers have launched new generations of these products with more and better features.

A new generation

Combination tool kits are in the forefront of new cordless tool offerings. A typical seven-piece combination kit includes a drill and driver, an impact driver, a circular saw and a reciprocating saw, each with a variety of features.

The ½-inch drill and driver has a variable-speed, four-pole brushless motor to deliver 480 inch-pounds of torque and weighs 3.9 pounds with the battery.

The impact driver has a 0-2, 900 rpm and a 0-3, 500 rpm variable-speed, low-torque high-speed motor for drilling and a low-speed high-torque motor for driving, with a maximum torque of 1,460 inch-pounds.

The 3,700 rpm, 6½-inch-diameter blade circular saw for cross-cutting weighs 7.3 pounds with the battery and has a 30-minute battery charging time.

The 0-2, 800 strokes per minute, 8,500 rpm reciprocating saw weighs 8.3 pounds with the battery and has a tool-change system that requires no tools.

The 8,500 rpm, 4½- to 5-inch cutoff/angle grinder with an adjustable-speed and torque change during operation to optimize performance.
Continue Reading:

Power Tools

Tools Evolve to Meet Users' Growing Demands

Lithium-Ion Batteries Create Interruption-Free Work

Cordless Power Tools Continue to Add Features and Improvements
---
---
---
Related Topics:
Comments