You Might Like
On FacilitiesNet
New-Generation Concrete-Repair Power Tools Seek to Maxmize Productivity
Part 1 of a 3-part article on concrete-repair power tools
OTHER PARTS OF THIS ARTICLE
Pt. 1: This Page
Pt. 2:
Dust Generated from Concrete Tools Gains Attention of OSHA
Pt. 3:
Cordless Units Emerge as Popular Trend for Concrete-Repair Tools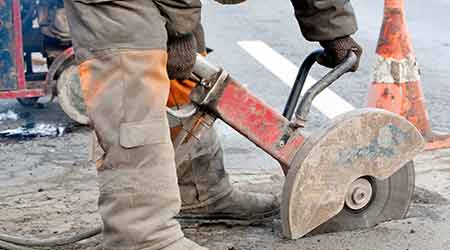 Concrete is one of the most durable construction materials used on interior and exterior surfaces in institutional and commercial facilities. But problems inevitably arise due to its improper installation, wear and tear from traffic, and exposure to the elements.
So workers can repair concrete problems effectively, maintenance and engineering managers need to provide in-house technicians with the most appropriate power tools and equipment. Developments in new-generation tools aim to help workers deliver successful projects by controlling dust, reducing vibration, and taking advantage of the benefits of battery power.
Concrete concerns
Concrete tools need to be durable enough so that technicians can repair cracking, structural issues and surface problems. Each problem carries its own set of challenges.
"Cracking is probably going to be the most common problem, and a lot of times to prevent cracking crews will score concrete ahead of time to prevent that," says Taylor Hoppe of Milwaukee Tool.
"But sometimes with poured floors like sidewalks, walkways or basements, what they'll find is the concrete will shrink as it sets or dries, which causes it to crack.
"One of the common ways to help with that problem is to use a grinder with a diamond wheel. What they can do is run the wheel right through the crack, and it rounds out the bottom of that crack so it prevents the crack from going down through the concrete."
Structural problems that involve such building components as foundations are more complex and might require scanning equipment to uncover hidden problems as rusted rebar.
"Thermal (imagers), sonar — there are many different methods to try and figure that out," says Aaron Brading of Hilti Inc. "You can bring in a specialist or, if you think it's going to come up frequently, actually purchase the equipment, which is a significant investment for a one-time use."
Grinders can be especially effective when repairing concrete surfaces.
Concrete surface problems occur "when there's not enough air mixed in the concrete before they pour it," Hoppe says. "It causes the surface to chip away. If you've ever seen a poured floor that's not finished properly, you can see the aggregate in the concrete, and delamination can occur during the finishing process.
"To fix that, guys will use grinders and diamond wheels to grind that away. Once the surface has been broken up a little bit, they can re-pour that on top."
Managers specifying power tools for concrete maintenance need to give cost careful consideration. Depending on the scope of the project, managers might decide to rent a tool for a task instead of buying it.
"They may not own the tool that allows them to self-perform the work as they're used to," Brading says. "Typically, they're self-performing any miscellaneous application that comes up, but in some cases, if the tool required, for example, is a core rig that sells for $3,000, they may not have the equipment available.
"That's a challenge. At what point do you do it in-house and bring in equipment as needed, or bring in a possible expert in the industry to help with some guidance on which bit to use and how much pressure to apply? Or, do I contract it out for a fixed cost per hole and get it done by a specialist?
Continue Reading:

Power Tools

New-Generation Concrete-Repair Power Tools Seek to Maxmize Productivity

Dust Generated from Concrete Tools Gains Attention of OSHA

Cordless Units Emerge as Popular Trend for Concrete-Repair Tools
---
---
---
Related Topics:
Comments